By
Erika Winters
Rio Tinto Diamonds will be showcasing the Argyle Diamond Jewelry Collection for the upcoming Academy Awards. The collection is comprised of 12 jewelry pieces, including the award-winning champagne diamond necklace–the Bulles de Champagne Collier designed by Evelyn Huang (below)–and a champagne and white diamond bangle from Rio Tinto's 2012 sustainable jewelry collection. The collection will be presented to celebrities attending the Oscars, which will air live on Sunday, February 24, on ABC.
Rio Tinto's Argyle Diamond Mine is one of the world's largest suppliers of fancy-colored diamonds and has been in operation since 1983. The Argyle Mine produces over 90 percent of the world's pink diamonds, which are sold at the annual Argyle Pink Diamonds Tender.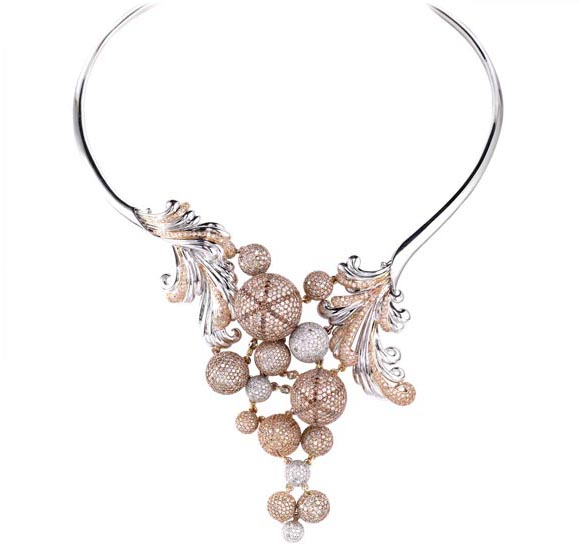 The Bulles de Champagne Collier is made with champagne-colored diamonds from Rio Tinto's Argyle diamond mine in Australia. The necklace, along with 11 other pieces from Rio Tinto's Argyle Diamond Jewelry Collection, will be showcased for celebrities at the 2013 Oscars.
Related Topics:
Rio Tinto Unveils Inaugural Jewelry from Indian Diamond Mine

Rio Tinto Debuts The Argyle Empress Necklace
Rio Tinto's Highlights from "Out of the Vault: Pink Diamonds and Royalty"