By
Erika Winters
Diamond Prices News Roundup – August 2013
Pricescope charted few changes in retail diamond prices in August. Retail prices for 0.5- to 1.0-carat diamonds decreased by 2% and prices for 4.0- to 99-carat diamonds were down by 1%. There were no notable price changes for 1.0- to 4.0-carat diamonds. Retail diamond price changes are based on Pricescope's database of over 450,000 diamonds from retail stores.
Retail Diamond Price Changes for August 2013
0 to 0.5 carat: no change
0.5 to 1.0 carat: -2%
1.0 to 2.0 carats: no change
2.0 to 3.0 carats: no change
3.0 to 4.0 carats: no change
4.0 to 99 carats: -1%
Pricescope Updated Retail Diamond Price Chart
Pricescope has been charting retail diamond prices since 2007.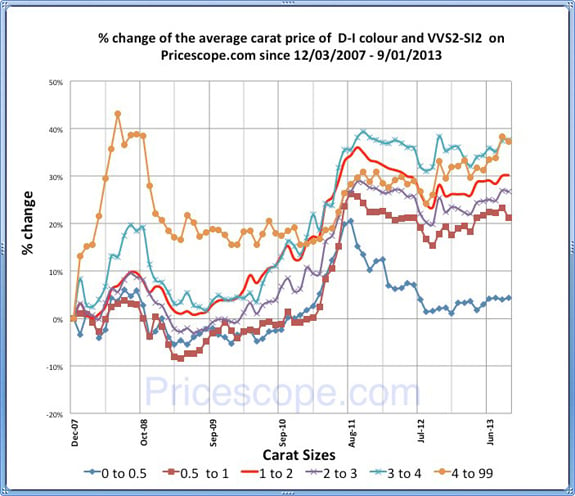 Read some of the latest stories in diamond price news…
Rapaport: Certified Polished Diamond Prices Stabilize in August
Certified polished diamond prices stabilized in August while dealers remained cautious amid low-volume trading.
The IDEX Online Polished Price Report for September 5, 2013
Contrary to the past month or so where changes in prices for round polished diamonds were almost completely negative, there was a noticeable number of increases this week, according to this week's IDEX Online Price Report.
IDEX: Indian Diamond Firms Call For Producers to Cut Prices
Indian diamantaires running small and medium-size firms, hit by a declining rupee against the US dollar which is making imports expensive and rising rough prices, are calling on diamond producers to reduce the price of rough goods.
The Times of India: Diamond Trading Company reduces rough diamond prices
Diamond Trading Company (DTC), the rough diamond distribution arm of De Beers group, has reduced the prices of roughs between 1.5 and 2 per cent in different categories of rough diamond boxes for its sightholders.
The Times of India: As rupee continues to slide, Zimbabwe to polish diamonds
As the Indian diamantaires are finding it hard to buy rough diamonds due to a price hike in the past two months, the Minerals Marketing Corporation of Zimbabwe (MMTZ), a government-owned firm, is scouting for partners to set up diamond cutting and polishing centres in Zimbabwe.
Related Topics:
Retail Retail Diamond Prices Up in July

New Pricescope Guide for Consumers: How to Sell Your Diamonds