By
Erika Winters
Diamond Prices News Roundup – July 2013
Pricescope charted increases in retail diamond prices in July, though polished diamond prices were down last month according to reports from Rapaport and Idex (read below). Retail diamond price changes are based on Pricescope's database of over 450,000 diamonds from retail stores.
Retail Diamond Price Changes for July 2013
0 to 0.5 carat: no change
0.5 to 1.0 carat: +1%
1.0 to 2.0 carats: +2%
2.0 to 3.0 carats: +2%
3.0 to 4.0 carats: +2%
4.0 to 99 carats: +4%
Pricescope Updated Retail Diamond Price Chart
Pricescope has been charting retail diamond prices since 2007.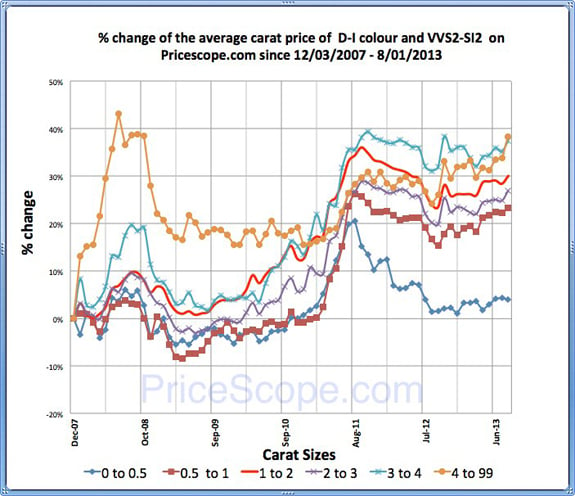 Read some of the latest stories in diamond price news…
Rapaport: Certified Polished Diamond Prices -2% in July
Certified polished diamond prices fell in July. China's economic slowdown significantly reduced diamond demand resulting in overstocked retail inventories. India's jewelry market plummeted due to the weak rupee and government programs intended to curb gold consumption and jewelry demand. Furthermore, diamond manufacturers are facing tight liquidity as banks become increasingly concerned about the high levels of industry debt and high rough diamond prices, which result in negative cash flow. The only bright spot has been the U.S., where demand has been steady but selective.
IDEX Online Research: Polished Diamond Prices Fell 3.1% in July
Prices of polished diamonds decreased in July, according to the IDEX Online Polished Diamond Index. The index averaged 132.4 during the month, down 3.1 percent year-over-year and 1.7 percent compared to the preceding month.
Polished Prices:
Prices still lack momentum
The overall PolishedPrices index slipped slightly in July, continuing the trend that has seen prices remaining effectively flat for almost a year.
Rapaport: U.S. Polished Diamond Exports Surge to a Record High
The month of June historically records returns from the JCK Vegas show to major trading centers, and this year polished exports surged 12.6 percent to $2.555 billion, which was a record high.
IDEX Online Rough Diamond Market Report: Moody Market
The dominant characteristic of the global rough diamond market is not economic. Nor is it a trend, a marketing issue, or technological. It is an emotional one. Sightholders, rough diamond dealers and many manufacturers remain in a bad mood.
Related Topics:
Retail Diamond Prices: Slight Decreases in June

New Pricescope Guide for Consumers: How to Sell Your Diamonds