By
Erika Winters
Diamond Prices News Roundup – June 2013
Pricescope charted slight decreases in retail diamond prices in June. Retail prices for both 1.0 to 2.0-carat and 3.0 to 4.0-carat diamonds decreased by 1%. Pricescope data shows no other price changes for other listed carat weights. Retail diamond price changes are based on Pricescope's database of over 450,000 diamonds from retail stores.
Retail Diamond Price Changes for June 2013
0 to 0.5 carat: no change
0.5 to 1.0 carat: no change
1.0 to 2.0 carats: -1%
2.0 to 3.0 carats: no change
3.0 to 4.0 carats: -1%
4.0 to 99 carats: no change
Pricescope Updated Retail Diamond Price Chart
Pricescope has been charting retail diamond prices since 2007.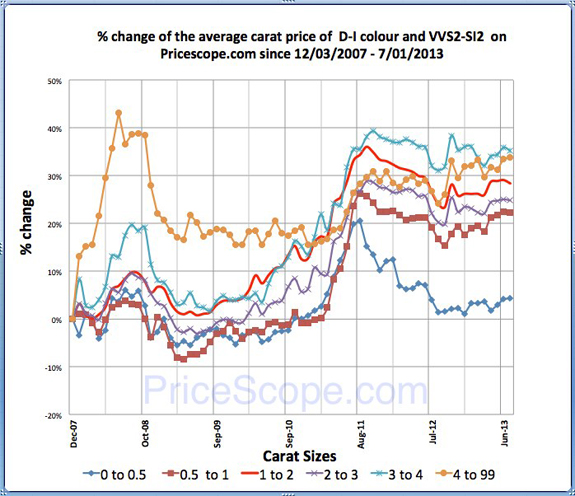 Read some of the latest stories in diamond price news…
Rapaport: Certified Polished Diamond Prices -0.6% in June
Certified polished diamond prices softened in June as cutting centers came under financial pressure.
IDEX Online Research: Polished Diamond Prices +1% in June – by Edahn Golan
Prices of polished diamonds increased on average by 1.0 percent in June compared to May, according to the IDEX Online Polished Diamond Index.
Polished Prices:
Prices slightly weaker in June
The overall PolishedPrices index slipped slightly in June, but finished the half year 1% higher than at the start of 2013.
Rapaport Editorial: Diamond Producers & Marketers – by Avi Krawitz
There are two faces to the diamond mining sector and each has a clear but different strategy on how to strengthen their position in the market.
Times of India: Falling rupee sends diamond prices soaring
SURAT: Do you plan to buy a solitaire diamond or diamonds below one carat for necklace, wedding ring, earrings etc.? It is sure to burn a big hole in your pockets.
Related Topics:
Retail Diamond Prices Edge Higher in May
New Pricescope Guide for Consumers: How to Sell Your Diamonds