By
Erika Winters
Diamond Prices News Roundup – May 2013
Pricescope charted slight increases in retail diamond prices, reflecting overall market trends for polished prices in May. Retail prices for 0 to 1.0-carat diamonds increased by 1%, and prices for 3.0 to 99 carats were up by 2%. Pricescope data shows no other price changes for other listed carat weights. Retail diamond price changes are based on Pricescope's database of over 450,000 diamonds from retail stores.
Retail Diamond Price Changes for May 2013
0 to 0.5 carat: +1%
0.5 to 1.0 carat: +1%
1.0 to 2.0 carats: no change
2.0 to 3.0 carats: no change
3.0 to 4.0 carats: +2%
4.0 to 99 carats: +2%
Pricescope Updated Retail Diamond Price Chart
Pricescope has been charting retail diamond prices since 2007.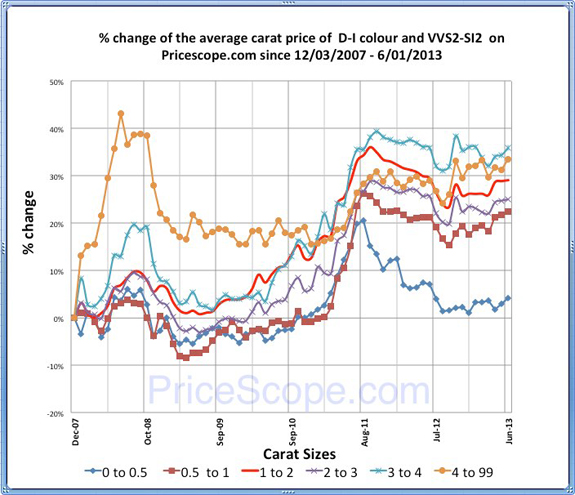 Read some of the latest stories in diamond price news…
IDEX Online Research: Polished Diamond Prices Up 0.2% in May by Edahn Golan
Prices of polished diamonds edged up slightly in May, according to the IDEX Online Polished Diamond Index. The index averaged 133.3 during the month, a 0.2 percent month-over-month increase.
**Follow Edahn Golan on Facebook for diamond price analysis and industry news.
Rapaport: Certified Polished Diamond Prices Stable in May
Certified polished diamond prices were flat in May as trading was reserved during the Las Vegas shows.
Polished Prices:
Gradual improvement in polished prices continues through May
Despite volatile trading during May, the overall trend of slowly increasing polished diamond prices continued throughout the month.
The Times of India: Diamantaires set eyes on Zimbabwe rough diamonds
SURAT: Concerned over the weakening rupee against the dollar and increasing prices of rough diamond, diamantaires in the world's biggest diamond cutting and polishing centre in Surat have once again set their eyes on the diamonds produced in the controversial Marange diamond mine in Zimbabwe.
Rapaport: Varda Shine Discusses Liquidity Concerns, Diamond Prices and Demand
De Beers rough prices have increased by mid- to high-single digit percentages since the beginning of 2013, Varda Shine, De Beers executive president of global sightholder sales, told Rapaport News.
Related Topics:
Retail Diamond Prices Stable in April
New Pricescope Guide for Consumers: How to Sell Your Diamonds