By
Erika Winters
Diamond Prices News Roundup – April 2013
Pricescope charted few changes in retail diamond prices during the month of April. Retail prices for 0 to 0.5-carat diamonds increased by 1%, while prices for 4.0 to 99-carat diamonds decreased by 1%. Pricescope data shows no other price changes for other listed carat weights. Retail diamond price changes are based on Pricescope's database of over 450,000 diamonds from retail stores.
Retail Diamond Price Changes for April 2013
0 to 0.5 carat: +1%
0.5 to 1.0 carat: no change
1.0 to 2.0 carats: no change
2.0 to 3.0 carats: no change
3.0 to 4.0 carats: no change
4.0 to 99 carats: – 1%
Pricescope Updated Retail Diamond Price Chart
Pricescope has been charting retail diamond prices since 2007.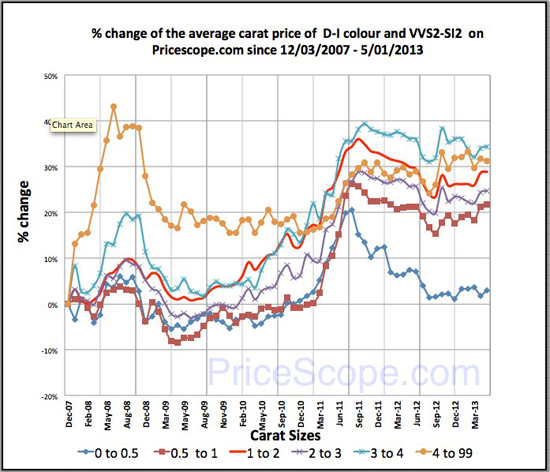 Read some of the latest stories in diamond price news…
IDEX Online Research: Polished Diamond Prices -4.8% in April
Prices of polished diamonds depreciated in April, losing 1.5 percent month-over-month and 4.8 percent year-over-year, according to the IDEX Online Polished Diamond Index.
Rapaport: Certified Polished Diamond Prices Stable in April
Certified polished diamond prices were stable in April as trading slowed during the Passover and Easter holidays.
Bloomberg:
China Affair With Cheap Diamonds Heats Mass Market: Commodities
China's burgeoning middle class is buying diamonds so quickly that the price of mass-market stones is rising faster around the world than for top-quality jewels affordable only to the super-rich.
The Times of India: Surat diamond traders default on payments worth Rs 3 crore
SURAT: All is not well in the world's biggest diamond cutting and polishing centre in Surat.
Related Topics:
Retail Diamond Prices Rise in March and Chart for 2013 1st Quarter
New Pricescope Guide for Consumers: How to Sell Your Diamonds