By
Erika Winters
Diamond Prices News Roundup – March 2013
Pricescope data shows that retail diamond prices increased for all listed carat weights with the exception of the 0 to 0.5-carat range, which decreased by 2 percent. We have included our monthly price chart for March in addition to a new chart showing price changes for the first quarter of 2013. Retail diamond price changes are based on Pricescope's database of over 450,000 diamonds from retail stores.
Retail Diamond Price Changes for March 2013
0 to 0.5 carat: – 2%
0.5 to 1.0 carat: + 3%
1.0 to 2.0 carats: + 3%
2.0 to 3.0 carats: + 2%
3.0 to 4.0 carats: + 2%
4.0 to 99 carats: + 2%
Pricescope Updated Retail Diamond Price Chart
Pricescope has been charting retail diamond prices since 2007.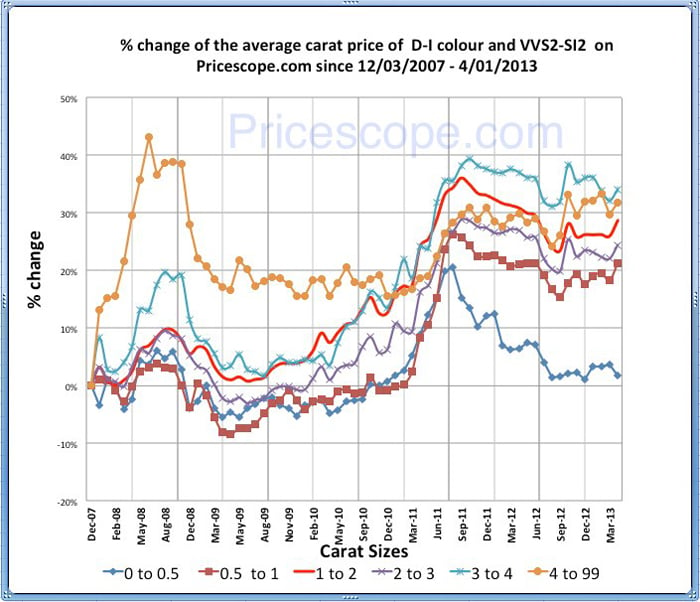 Top: Updated 4/01/2013, the chart shows a 2% retail diamond price decrease for 0 to 0.5 carat stones, a 3% increase for 0.5 to 2.0 carats, and a 2% increase for 2.0 to 99 carats. Bottom: Pricescope's retail diamond price chart for the 1st quarter of 2013.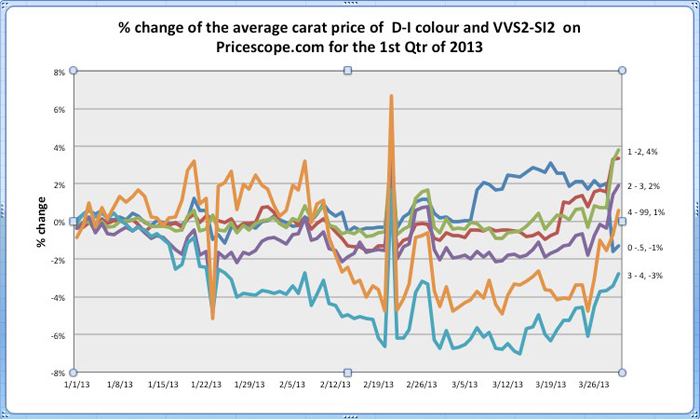 Read some of the latest stories in diamond price news.
Rapaport: Certified Polished Diamond Prices Stable in March
Certified polished diamond prices held steady in March with 0.30-carat stones continuing to outpace other sizes.
IDEX Online Research: Polished Diamond Prices +1.8%
In March prices improved by 1.8 percent on average compared to February, according to the IDEX Online Polished Diamond Price Index.
Business Standard:
Rough diamond prices up 4-5% in Jan-Mar
Rough diamond prices gained 4 – 5% between January – March period this year following resurgence in its demand from Indian cutting and processing industry.
Mining Weekly: Dominion Diamond lifts Q4 sales as global demand improves
Canadian miner Dominion Diamond late on Wednesday reported increased diamond sales during the fourth quarter ended January 31, as global demand increased and prices were also higher.
Idex Magazine: Diamond Prices and the Forces that Shape Them by Edahn Golan
Just like any other traded goods, polished diamond prices increase and decrease, and like most commodities, a variety of forces cause these fluctuations.
Related Topics:
Retail Diamond Prices Dip in February
New Pricescope Guide for Consumers: How to Sell Your Diamonds