By
Erika Winters
Diamond Prices News Roundup – September 2013
Pricescope charted decreases in retail diamond prices for the majority of listed carat weights in September, though prices for polished diamonds were relatively stable according to reports from Rapaport and Idex (read below). Retail diamond price changes are based on Pricescope's database of over 450,000 diamonds from retail stores.
Retail Diamond Price Changes for September 2013
0 to 0.5 carat: +3%
0.5 to 1.0 carat: -3%
1.0 to 2.0 carats: -5%
2.0 to 3.0 carats: -4%
3.0 to 4.0 carats: -5%
4.0 to 99 carats: -7%
Pricescope Updated Retail Diamond Price Chart
Pricescope has been charting retail diamond prices since 2007.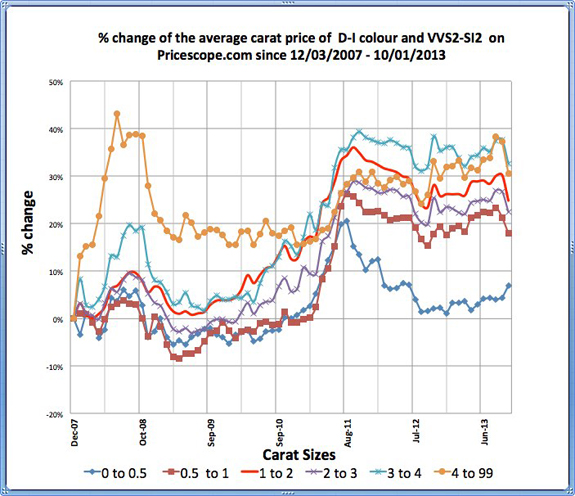 Read some of the latest stories in diamond price news…
Rapaport: Certified Polished Diamond Prices Stable in September
Certified diamond prices were stable in September with significantly reduced trading volume.
The IDEX Online Research: Polished Diamond Prices Rise 1% in September
Prices of polished diamonds are rising again, as the IDEX Online Polished Diamond Index increased by 1.0 percent to 132.6 in September compared to August.
The Times of India: Rough diamond prices to rise till 2018
For small and medium diamantaires in world's biggest diamond cutting and polishing centre in Surat, there is little hope of recovery in the market until 2018.
Rapaport Magazine: Recovery Mode Pushes Sales Up
As summer drew to a close, reports from retailers indicated that the economy had finally entered recovery mode. Sales figures were up, though not dramatically, and higher-ticket items, such as large solitaires and expensive designer pieces, were selling again.
National Jeweler: Stock market index for diamonds to launch
An index that tracks the price of diamonds like the NASDAQ 100 follows the largest non-financial companies is slated to launch in the near future, with a diamonds-as-investment vehicle potentially not far behind.
Related Topics:
Retail Diamond Prices Stable in August

New Pricescope Guide for Consumers: How to Sell Your Diamonds