By
Erika Winters
Diamond Prices News Roundup – October 2013
Retail diamond prices edged higher in October following price dips charted by Pricescope in September. Retail diamond price changes are based on Pricescope's database of over 450,000 diamonds from retail stores.
Retail Diamond Price Changes for October 2013
0 to 0.5 carat: +2%
0.5 to 1.0 carat: no change
1.0 to 2.0 carats: +1%
2.0 to 3.0 carats: +1%
3.0 to 4.0 carats: +1%
4.0 to 99 carats: +2%
Pricescope Updated Retail Diamond Price Chart
Pricescope has been charting retail diamond prices since 2007.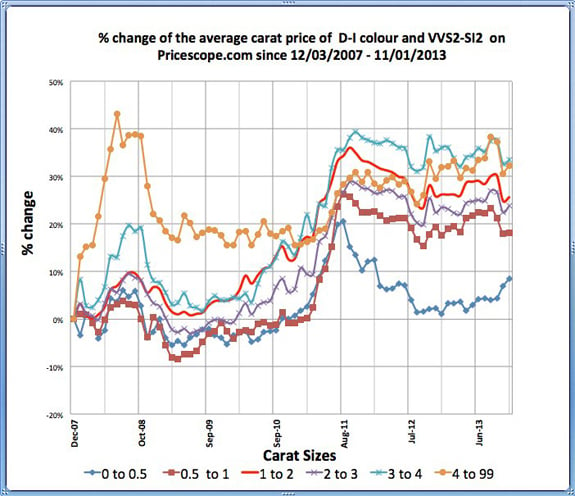 Read some of the latest stories in diamond price news…
Rapaport: Certified Polished Diamond Prices -1.7% in October
Certified polished diamond prices fell in October as trading volume did not meet expectations for this time of the year.
IDEX Online Research: Polished Diamond Prices +0.1% in October
The IDEX Online Polished Diamond Index was nearly flat in October, increasing by 0.1 percent compared to September. One-carat rounds declined by 0.4 percent in October.
Forbes: Buy That Engagement Ring Now: The Coming Supply Squeeze In Diamonds
Couples thinking about getting married someday might want to consider way-in-advance planning for the ring. Diamond prices will not be getting any cheaper and might even soar in about four years.
The New York Times: Alrosa, a Russian Rival to De Beers, Enters Public Trading
Investors now have an opportunity to bet directly on diamond mining, as the Russian government moves to spin off a 16 percent stake in Alrosa.
Business Standard: India's Import duty on polished diamonds may rise to 5%
To protect the interests of small diamond processors, the government is looking to raise import duty on cut and polished (C&P) diamond to five per cent from the existing two per cent.
Rapaport Editorial: India's Damaging Duty
Reports that India is considering raising the import duty on polished diamonds from 2 percent to 5 percent is a stunning development.
The Times of India: Zimbabwe rough diamonds to flow into Surat markets soon
SURAT: Huge quantities of rough diamonds from Zimbabwe are set to flow into the world's biggest diamond cutting and polishing centre in Surat after Diwali festival.
Related Topics:
Retail Diamond Prices Dip in September

New Pricescope Guide for Consumers: How to Sell Your Diamonds