By
Erika Winters
Diamond Prices News Roundup – February 2014
Retail diamond prices for 0- to 0.5-carat diamonds increased by 3%, while prices for 0.5- to 3.0-carat diamonds remained unchanged following slight increases in January. Retail prices for 3.0- to 99-carat diamonds fell by 1%, according to Pricescope data. Retail diamond price changes are based on Pricescope's database of over 450,000 diamonds from retail stores.
Retail Diamond Price Changes for February 2014
0 to 0.5 carat: +3%
0.5 to 1.0 carat: no change
1.0 to 2.0 carats: no change
2.0 to 3.0 carats: no change
3.0 to 4.0 carats: -1%
4.0 to 99 carats: -1%
Pricescope Updated Retail Diamond Price Chart
Pricescope has been charting retail diamond prices since 2007.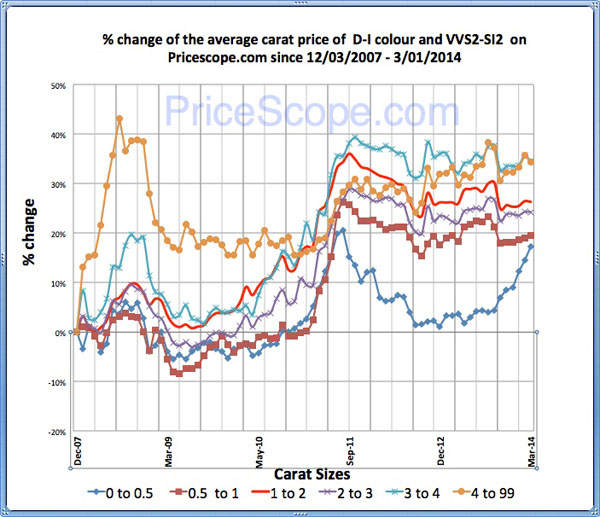 Read some of the latest stories in diamond price news…

IDEX Online Research: Polished Prices Slightly Higher in February

The IDEX Online Polished Diamond Index rose slightly in February to 134.2 compared with 131.9 in January. Round items were all up, apart from 1.0-carat goods which were unchanged.
Rapaport: Certified 1ct. Polished Diamond Prices +0.3% in February
Diamond market sentiment improved in February as polished diamond prices rose while rough diamond prices remained stable.
BE Mining: Exquisite diamonds reach top prices for Gem Diamonds
The two diamonds, the 162.02 carat type II diamond and the 161.31 carat type I, were both recovered from the company's Letšeng mine in Lesotho at the end of January 2014 and sold for $11.1 million and $2.4 million respectively.
Forbes: The $83 Million Pink Diamond Default
Diamond cutter Isaac Wolf outbid three rivals for the 59.6-carat "Pink Star" diamond, offering about $83.2 million, a world record for any gem sold at auction…
JCK: Why the Diamond Business Keeps Getting Slammed
I have heard it said that if you really want to distrust the mass media, read articles on a subject you know a lot about. And so it is with diamonds.
Related Topics:
Retail Diamond Prices Edge Up in January

Pricescope Guide for Consumers: How to Sell Your Diamonds