By
Erika Winters
Diamond Prices News Roundup – March 2014
Retail diamond prices for 0- to 0.5-carat, 1.0- to 2.0-carat, and 3.0- to 4.0-carat diamonds rose by 1%, while prices for 4.0- to 99-carat diamonds rose by 2%, according to Pricescope data. Prices for other listed carat weights remained unchanged in March. Retail diamond price changes are based on Pricescope's database of over 450,000 diamonds from retail stores.
Retail Diamond Price Changes for March 2014
0 to 0.5 carat: +1%
0.5 to 1.0 carat: no change
1.0 to 2.0 carats: +1%
2.0 to 3.0 carats: no change
3.0 to 4.0 carats: +1%
4.0 to 99 carats: +2%
Pricescope Updated Retail Diamond Price Chart
Pricescope has been charting retail diamond prices since 2007.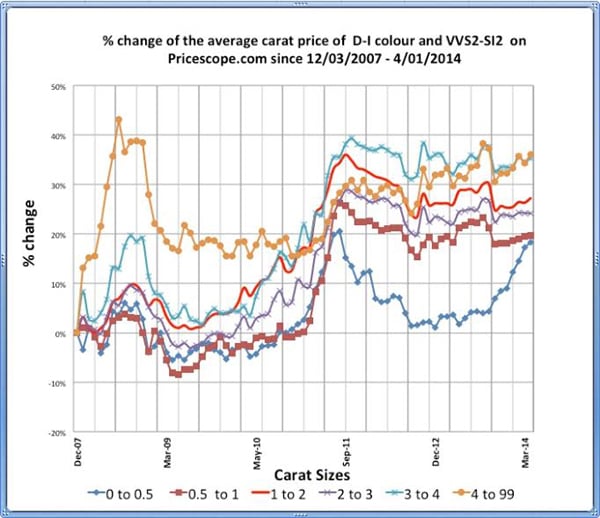 Read some of the latest stories in diamond price news…
Rapaport: Certified Polished Diamond Prices Rise in March
Diamond markets were positive in March after the Hong Kong show demonstrated steady Chinese demand for commercial-quality diamonds. The recent Basel shows signaled robust demand for top-quality large diamonds, fancy colored diamonds and fine-cut fancy shape diamonds.

IDEX Online Research: Polished Prices Slip Back in March

The IDEX Online Polished Diamond Index slipped back in March to 132.9 from the February figure of 134.2. In round items, only 0.5-carat diamonds and 1.0-carat goods rose in price.
Polished Prices: Index sets 20-month high
A strong finish at the end of March saw the overall PolishedPrices index reach above 150 for the first time since July 2012.
Rapaport: Online Retail Sales Soar in India
India's ecommerce grew 33 percent year on year to $10.46 billion (INR 62,967 crore) in 2013, according to the Internet And Mobile Association of India (IAMAI).
Idex: Diamantaires Underwhelmed at Baselworld

As the week-long Baselworld show heads into its final days, diamond exhibitors are already taking stock of the event and the conclusion seems to be that business at the show could have been much better.
Join the forum discussion:
Price predictions what is happening in the world of diamond?

Related:
Retail Diamond Prices Up Slightly in February