By
Erika Winters
Diamond Prices News Roundup – April 2014
Retail diamond prices declined in April following slight increases in March. Retail diamond price changes are based on Pricescope's database of over 450,000 diamonds from retail stores. According to Rapaport, demand for certified polished diamonds softened, as retailers' diamond-buying slowed after inventory replenishment during the first quarter of 2014. Read more about diamond price changes below.
Retail Diamond Price Changes for April 2014
0 to 0.5 carat: no change
0.5 to 1.0 carat: no change
1.0 to 2.0 carats: -1%
2.0 to 3.0 carats: -1%
3.0 to 4.0 carats: -1%
4.0 to 99 carats: -2%
Pricescope Updated Retail Diamond Price Chart
Pricescope has been charting retail diamond prices since 2007.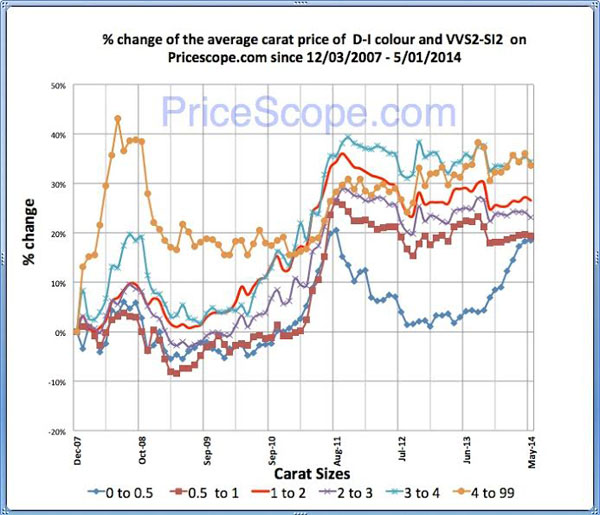 Read some of the latest stories in diamond price news…
Rapaport: Certified Polished Diamond Prices Decline in April
Diamond markets slowed in April although sentiment remained positive. Demand softened as jewelers reduced their buying after replenishing their inventory during the first quarter.

IDEX Online Research: Polished Prices Increase in April

The IDEX Online Polished Diamond Index increased in April to 134.2 from 132.9 in March. In round items, all sizes from 0.5 carats to 2.0 carats rose in price.
JCK: Customers Saying No to Higher Diamond Prices, Blue Nile Says
Blue Nile executives said rising diamond prices are giving its customers sticker shock, and they complained that ongoing price volatility is hurting their business.
Bloomberg: De Beers Diamond Prices Rising as Anglo Chases Goal
De Beers plans to raise diamond prices 5 percent every year, betting demand will help the world's biggest miner of the precious stones meet parent Anglo American Plc's target for returns.
Edahn Golan at Idex: A FL, 2-Carat Diamond for $25? Wrong!

Columnists sometimes do the strangest things, like writing a column about something they know very little, and sometimes nothing, about, tossing some figures to give credence to their writings, and in the process causing damage. One such column appeared a couple of weeks ago in the New York Times titled "When Diamonds Are Dirt Cheap, Will They Still Dazzle?"
National Jeweler: When the Times doesn't dazzle

This past winter, one of my esteemed industry colleagues included a saying in one of his blogs that I had never heard before: If you really want to be wary of the mass media, read an article on a topic about which you are particularly well informed.
Related:
Retail Retail Diamond Prices Up in March