By
Erika Winters
Diamond Prices News Roundup – May 2014
Retail diamond prices were steady in May following slight decreases in April. Retail diamond price changes are based on Pricescope's database of over 450,000 diamonds from retail stores. Read more about diamond price changes below.
Retail Diamond Price Changes for May 2014
0 to 0.5 carat: -2%
0.5 to 1.0 carat: -1%
1.0 to 2.0 carats: no change
2.0 to 3.0 carats: no change
3.0 to 4.0 carats: +1%
4.0 to 99 carats: +1%
Pricescope Updated Retail Diamond Price Chart
Pricescope has been charting retail diamond prices since 2007.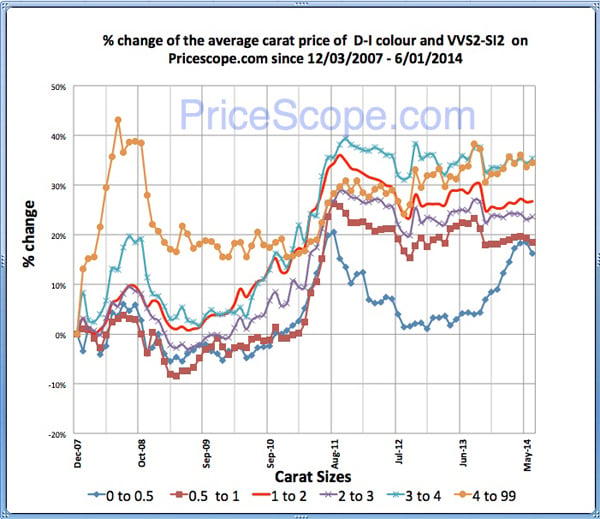 Read some of the latest stories in diamond price news…
Rapaport: Certified Polished Diamond Prices Steady in May
Diamond markets were quiet with stable prices in May. The trade focused on the U.S. ahead of the JCK Las Vegas show that took place May 29 to June 2.

JCK: De Beers CEO: We Won't Be Raising Prices 5 Percent a Year

In an interview yesterday at the Forevermark breakfast, De Beers CEO Philippe Mellier denied reports the company aims to raise prices an average of 5 percent a year.
Idex: Chow Tai Fook to Buy Hearts On Fire for $150 Million
Leading Chinese jewelry retailer Chow Tai Fook has announced plans to buy Hearts On Fire for a cash payment of $150 million.
CNN: Tiffany stock is better than diamonds
Anyone who tells you diamonds are a girl's best friend needs better financial advice.
Idex: Eurostone Launches Fancy Shapes Price Calculator

Eurostone, an Israeli manufacturer of custom-cut and calibrated polished diamonds for the luxury watch and high-end jewelry markets, has launched a Fancy Shapes Price Calculator.
Rapaport: The 18 Inch Diamond Dream

On the sidelines of the JCK Las Vegas show, a deeper conversation was taking place than the usual negotiation for goods.
Related:
Retail Retail Diamond Prices Up in March