By
Erika Winters
Diamond Prices News Roundup – June 2014
Following few changes in May, retail diamond prices remained stable in June with slight decreases in 0- to 0.5-carat and 4.0- to 99-carat diamonds listed in Pricescope's database of over 450,000 diamonds from retail stores. Read more about diamond price changes below.
Retail Diamond Price Changes for June 2014
0 to 0.5 carat: -1%
0.5 to 1.0 carat: no change
1.0 to 2.0 carats: no change
2.0 to 3.0 carats: no change
3.0 to 4.0 carats: no change
4.0 to 99 carats: -1%
Pricescope Updated Retail Diamond Price Chart
Pricescope has been charting retail diamond prices since 2007.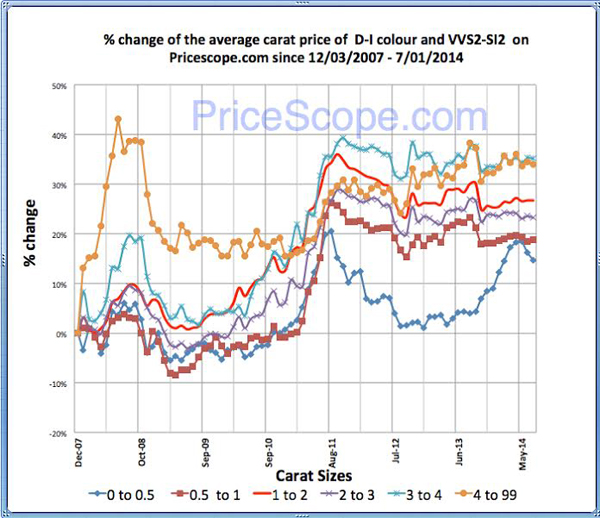 Read some of the latest stories in diamond price news…
Rapaport: Certified Polished Diamond Prices Soften in June
Diamond markets were seasonally quiet in June and polished prices softened slightly.

IDEX Online Research: Polished Prices Up In June

The IDEX Online Polished Diamond Index increased in June to 135.5 from 134.5 in May. In round items, all sizes increased in price apart from 2.0 carats which were unchanged.
Idex: 'No Major New Mines' Answers the Wrong Question
Conventional wisdom holds that prices of polished diamonds are bound to go up because demand is rising and supply is shrinking.
Idex: The Rise and Steady Descent of Diamond Production
'A diamond is forever' the slogan goes, but when did 'Forever' start? From a technical standpoint, not a marketing one, diamonds have been around since first found in India.
Rapaport: A Tougher Third Quarter
The second quarter was always going to be a quieter period for the diamond trade.
Bloomberg: Billionaire Leviev Said to Strike Angolan Diamonds Deal

Billionaire Lev Leviev struck a deal with Angola allowing him to charge more for diamonds he mines in the country, according to people with knowledge of the agreement.
Related:
Retail Diamond Prices Stable in May