By
Erika Winters
Diamond Prices News Roundup – July 2014
Retail diamond prices dipped slightly in July following relatively stable prices in June. Retail diamond price changes are based on Pricescope's database of over 450,000 diamonds from retail stores. Read more about diamond price changes below.
Retail Diamond Price Changes for July 2014
0 to 0.5 carat: -1%
0.5 to 1.0 carat: no change
1.0 to 2.0 carats: -1%
2.0 to 3.0 carats: no change
3.0 to 4.0 carats: -2%
4.0 to 99 carats: -1%
Pricescope Updated Retail Diamond Price Chart
Pricescope has been charting retail diamond prices since 2007.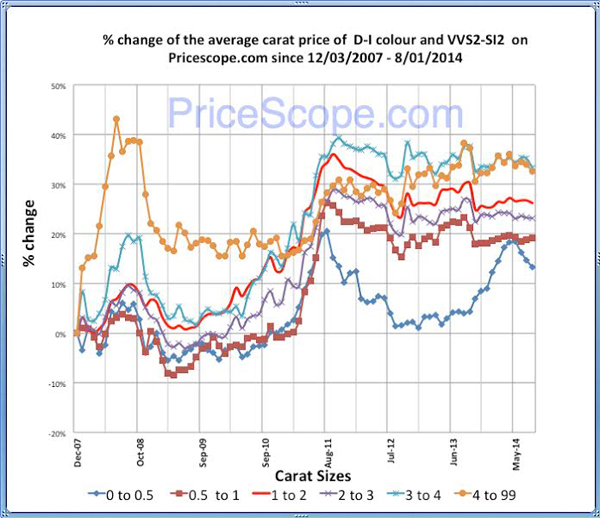 Read some of the latest stories in diamond price news…
Rapaport: Certified 1ct. Polished Diamond prices -2.4% in July
Certified polished diamond prices fell during July.

IDEX Online Research: Polished Prices Up Slightly in July

The IDEX Online Polished Diamond Index increased in July to 136.8 from 135.5 in May. In round items, all sizes increased in price apart from 0.5 carats which were unchanged.
National Jeweler: Rising diamond prices slow Blue Nile's Q2 sales
Blue Nile began dropping its prices in June and July following a second quarter in which sales of engagement rings in the U.S. fell 5 percent year-over-year due to higher diamond prices.
Rapaport: Global Diamond Production +11% to $14B in 2013
Global diamond production by value rose 11 percent year on year to $14.09 billion in 2013, due mainly to an increase in the average price of rough diamonds, according to annual data published by the Kimberley Process Certification Scheme.
Wall St. Daily: Diamonds Once Again Set to Sparkle
They say that diamonds are forever. But recently, the diamond industry has been in a downward spiral, with trade plagued by high production costs and falling prices.
Related:
Retail Diamond Prices Steady in June