By
Erika Winters
Diamond Prices News Roundup – January 2014
Retail diamond prices increased in January following relatively stable prices tracked by Pricescope in December 2013. Retail diamond price changes are based on Pricescope's database of over 450,000 diamonds from retail stores.
Retail Diamond Price Changes for January 2014
0 to 0.5 carat: +2%
0.5 to 1.0 carat: no change
1.0 to 2.0 carats: +1%
2.0 to 3.0 carats: +1%
3.0 to 4.0 carats: +2%
4.0 to 99 carats: +2%
Pricescope Updated Retail Diamond Price Chart
Pricescope has been charting retail diamond prices since 2007.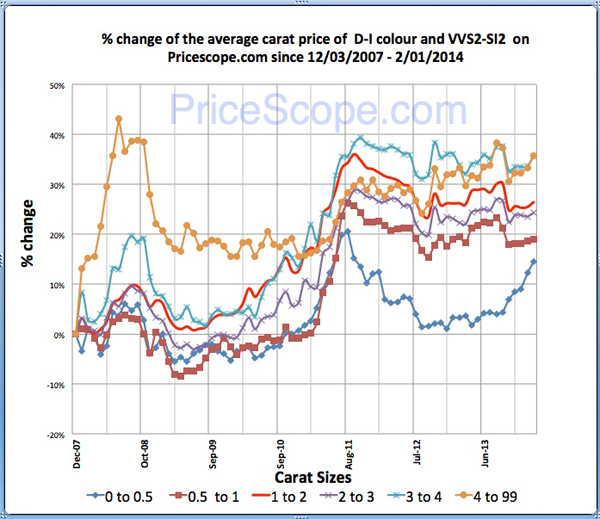 Read some of the latest stories in diamond price news…

IDEX Online Research: Flat Start to 2014 For Polished Diamond Prices

The IDEX Online Polished Diamond Index was largely unchanged in January, averaging 131.9 compared with 132.2 in the final month of 2013. Round items were mixed, with 0.5, 1.0, and 1.5-carat diamonds rising while 3.0, 4.0 and 5.0-carat stones declined on the month.
Rapaport: Certified 1ct. Polished Diamond Prices +1.2% in January
Diamond markets improved in January but manufacturers are concerned that higher rough prices are cutting their profit margins.
The New York Times: With Engagement Rings, Love Meets Budget
At a time when many young people are facing big student debts, a weak job market and rising housing costs, this luxury purchase still appears to be firmly planted on many ring fingers across the country.
Rapaport: Rough Market Restraint
The rough diamond price hikes that took effect in January did not surprise the market even if they were higher than expected.
Related Topics:
Retail Diamond Prices Up Slightly in December

Pricescope Guide for Consumers: How to Sell Your Diamonds