By
Erika Winters
Diamond Prices News Roundup – December 2013
Pricescope charted increases in retail diamond prices for 0 to 0.5-carat and 4 to 99-carat diamonds, while prices for all other listed carat weights remained stable in December. Retail diamond price changes are based on Pricescope's database of over 450,000 diamonds from retail stores.
Retail Diamond Price Changes for December 2013
0 to 0.5 carat: +3%
0.5 to 1.0 carat: no change
1.0 to 2.0 carats: no change
2.0 to 3.0 carats: no change
3.0 to 4.0 carats: no change
4.0 to 99 carats: +1%
Pricescope Updated Retail Diamond Price Chart
Pricescope has been charting retail diamond prices since 2007.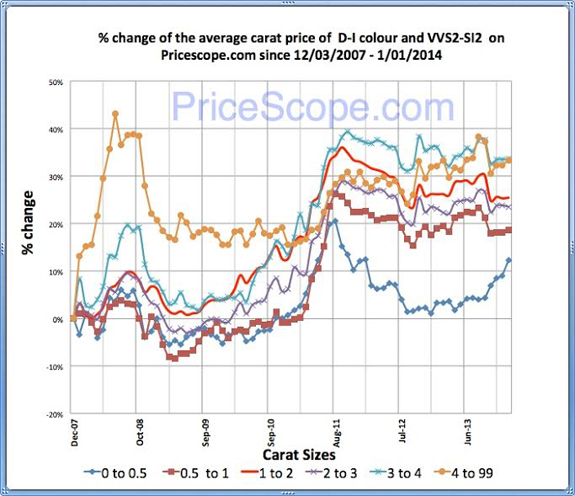 Read some of the latest stories in diamond price news…
IDEX Online Research: Polished Diamond Prices End 2013 on Flat Note
The IDEX Online Polished Diamond Index was more or less flat in December, averaging 132.2. Round items were mixed, with 0.5, 1.0, and 1.5-carat diamonds rising while 3.0, 4.0 and 5.0-carat stones declined on the month.
Rapaport: The Diamond Story of 2013
In many respects, 2013 was a momentous, albeit frustrating, year for the diamond industry.
Rapaport: 2014: Growth Potential
The mood in the diamond industry has already improved in 2014. Initial reports suggest the Christmas season was better than expected for the diamond trade and the U.S. appears inclined toward growth again.
Israel Diamond News:
Canadian Firms Saw Diamond Stocks Rise In 2013
For Canadian diamond companies, 2013 was a very successful year, Mining Markets reports.
Related Topics:
Retail Diamond Prices Stable in November

Pricescope Guide for Consumers: How to Sell Your Diamonds