By Erika W.


Revamp your Jewelry Box – Out with the Old, In with the New!
New holiday baubles making your jewelry box feel a little crowded? It's time to take stock! If you've been collecting jewelry for awhile, you may find your tastes change over the years. Maybe that big gold nugget ring doesn't do it for you anymore, or maybe you have a tangle of old chains from the 80s-or a bunch of single earrings with no mates! Love the diamonds in an old cluster ring, but couldn't care less for the setting? Time to re-group!
1. Take stock of your jewelry collection
First, open up your jewelry box and take stock. Ultimately you'll want a clean and organized jewel case like PearlDahhhling's shown below. Do an inventory.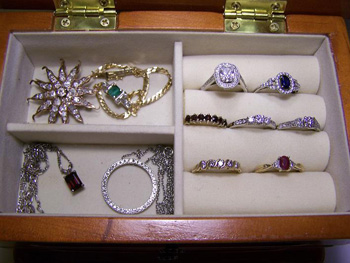 Posted by PearlDahhhling
Show us your whole collection!
2. Divide your jewelry into 3 groups
Now it's time to make some decisions. Divide your jewelry into the following 3 categories. This is really helpful when you are thinking about future recycling projects. Maybe you have some diamonds or colored stones sitting around that could be made into something fabulous! Get creative and get organized!
Jewelry to Keep
Anything you love that you absolutely must keep goes in this group. Some of your jewelry pieces may be older but have great sentimental value-like that first necklace your parents gave you. Keep the pieces you hold dear.
Jewelry to Recycle or Rework
These are pieces that have great potential. An old pair of diamond studs could become pave halo diamond dangle earrings. A 70s diamond cluster/cocktail ring could blossom into contemporary stacking band. Get creative!
Gold to Sell
$$ just sitting in your jewelry box! Gold prices are at an all time high, so if you have old 14k, 18k, 22k, and 24k gold pieces that you will never wear, sell them! There are many jewelers who will give you cash for gold, which you can use to fund a recycling project. To check current gold prices, visit: kitco.com
3. Go Custom-choose the jewelry you want to recycle
This is the fun part! Breathe new life into your old jewelry pieces by going custom. Recycle your jewelry by removing any treasured diamonds or colored stones and work with a designer to make a fabulous new piece. Katiedid recycled a diamond from an older ring into a lovely bezel pendant-a great idea!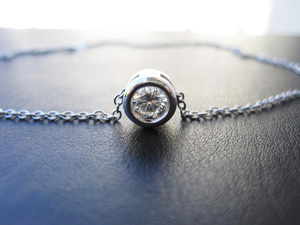 Posted by katiedid
introducing my new bezel pendant!
* Note – In most cases, a jeweler will scrap your precious metals and make a new piece for you. When gold or platinum is scrapped, it is sent to a refinery in bulk for purification. It is often more cost effective to scrap metal rather than attempt to use the same metal in a new piece of jewelry.
Custom work can take anywhere from 3 to 6 weeks depending on the jeweler, so it is wise to plan ahead. Want something by Valentine's Day? Start planning now!
Part Two: Recycled Jewelry – Before and After Pics
Related Threads:
Show us your jewelry boxes….How do you store & organize your jewelry?
Can you recycle metal from an old ring to make a new ring?
Thinking about recycling jewelry? Get help here: Jewelry Forum