This month has blown right past us,  Thanksgiving is behind us and Black Friday is underway. I know that it may all seem a little different than what we are used to, and we appreciate our traditions, but finding joy where we can is vitally important this year. What brings us a ton of joy? Jewelry! It's tremendous to see PriceScopers adding to their jewelry collections, we are so thankful for you all. These are the Jewels of the Weeks!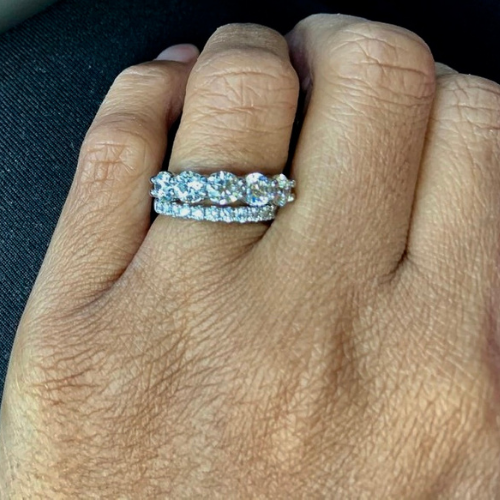 Missie1 shared this five-stone right hand ring that was purchased to mark an Anniversary, but ended up meaning a lot more. Missie1's dear husband was struck by a hit-and-run driver and left seriously injured between the time that this ring was ordered and when it arrived. This could have been the last piece that he ever purchased for her. It is blessedly not, as he is recovering but she felt all too keenly the severity of the situation. She will forever have this ring to look at and know exactly how precious that life and love are. What a beautiful platinum lining on this cloud. Not to mention it's just a beautiful ring!
STATISTICS
.45 I VVS1 stones for tcw of 2.25 in platinum setting from Blue Nile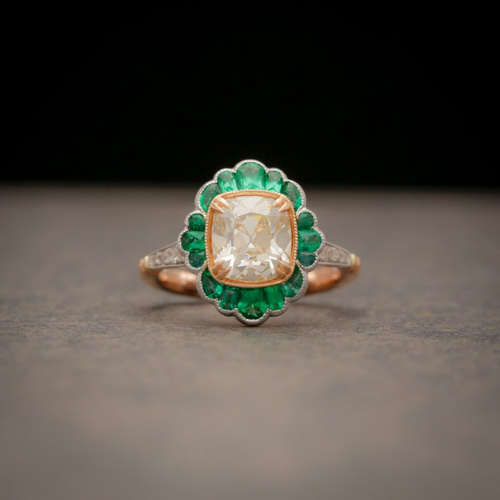 Elle_71125 posted this stunning diamond ring with an emerald halo, set in white and rose gold by David Klass. The contrasting colors and the unique look of this ring really set it apart. The cailbré cut emeralds give this a nearly floral look, and those colors all just compliment each other so well that it has created a cohesive and incredible finished piece. The facets on this AVC are a dream, you could lose hours staring at it. Clover is the perfect name for this amazing ring!
STATISTICS
Carat Weight: 1.59ct
Color Grade: O
Dimensions: 6.65 – 7.20 x 4.5
Clarity Grade: VS2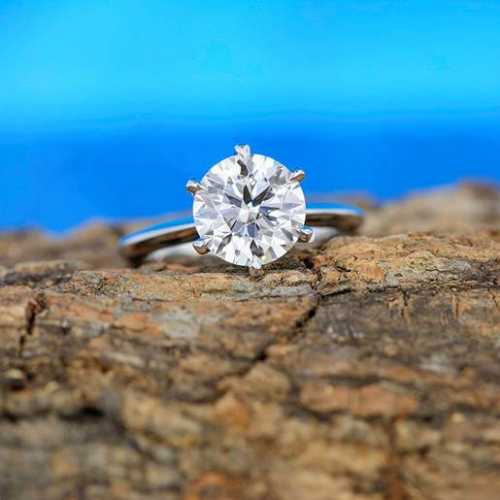 LLJsmom shared her incredible new solitaire, and we can't get enough. The look of this solitaire with that five-stone is over the top in all the best ways. The finger coverage is to die for and that MRB is singing. We understand and appreciate that LLJsmom may not be a ORTRTA (One Ring to Rule Them All) person, even if she had once believed herself to be. Jewelry is often a journey and reaching the destination only gives inspiration to start the journey anew. This crisp white beauty is magnificent, and to imagine that it may not have come to LLJsmom's finger if her DH had only repainted the yellow family room. Love it, fabulous all around.
PriceScopers pulled together and supported LLJsmom, and many were involved in making this a tremendous success. High Performance Diamonds knocked it out of the park!
STATISTICS
Carat Weight: 2.113 ct Round Brilliant
Color Grade: D
Clarity Grade: VS2
Setting: modified Tiffany setting.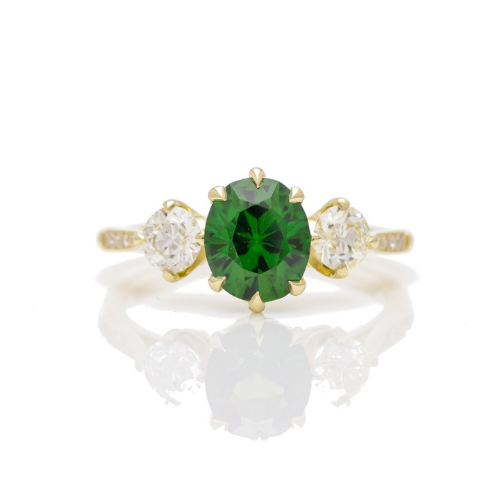 We're feeling a little green with envy over this gorgeous tourmaline three-stone ring that Volvoqueen posted. This is a Christmas gift for her Mother-in-Law who shares the jewelry love but has very little herself. This is so thoughtful and lovely, it will create such an awesome Christmas memory in a year where we are trying to capture every bit of happy we can!  Congratulations on this magnificent and stunning gift, we applaud you!
STATISTICS
Ring Size: 6.75
18K Gold
1.75 ct Chrome Green Tourmaline from Precision Gem
Side stones are K OEC, 0.30 ct each (tcw 0.60)
Made by David Klass
What a glorious November filled with beauty, we cannot wait to see what the Holidays bring! May the sparkle light your way through this Holiday Season and beyond! Thank you for sharing your marvelous pieces for us all to enjoy in the Show Me the Bling!  forum.
We are thankful for you all, and for the continued growth and strength of the PriceScope Community.
Written by Kayti Kawachi