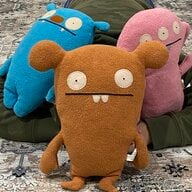 Joined

Oct 24, 2012
Messages

12,610
There is a story, so skip to the second post if you're bored already and just want to see pics.
As I mentioned in other threads I have been working on a super ideal cut and it's finally here. I haven't worn an MRB in almost 4 years and I wanted to get it right this time. I figured out I wanted both high color and a cut with minimal leakage, maximum edge to edge brightness and still have plenty of fire. I have color mind clean issues. If I had anything less than a D I would wonder if that color was being exhibited by the diamond. (My yellow walls still bug me but my DH won't repaint the family room.)
Shout out to
@LaylaR
(who speaks Diamond fluently),
@Wink
,
@Winks_Elf
, and the whole
HPD
team who counseled me through the process and made this happen, in the middle of a global pandemic. Miracle workers.
As a little background on the search, this D is the third super ideal I tested. The first one was an over 2.5 F super ideal from a different vendor which was not white enough for me. In spite of the size all I saw was color, and it was a wee bit quiet for me. Then I saw an E
CBI
which was absolutely gorgeous but I passed on because of, again, mind clean, issues. Then when I saw this one, the first thought was ICY. And I knew.
I'm not gonna lie. It's smaller than I am accustomed to and I knew that going in. Staring at a 3 ct OEC all day for 4 years will do that to you. It's a compromise I had to make given my other requirements. But I need time to get to know this stone, how it behaves in every room, in every light.
I still have my OEC and having an MRB highlights how flashy MK is with her big pastel flashes The
CBI
is stunning and if I started with this, 23 years ago, and never saw a well cut OEC IRL, I would have been perfectly happy. However, MK made her way into my life and although I thought I was a ORTRTA person, but...maybe not?
Special thanks to a number of PSers who have propped me up and tolerated my random and urgent texts throughout the last few months. Each has helped me unravel my convoluted thoughts and helped me focus, stay on task and has provided wise counsel.
@KristyDarling
@yssie
@diamondseeker2006
@hathalove
@m-2-b
,
@missy
and one other life saver (gotta find her handle) who checked out this stone with me. She knows who she is. She is a rock. (No pun intended.)
And a quick comment about the setting. Deep inside I think I wanted a do-over, although 23 years later. So if I could have gotten the ering of my dreams as an older and wiser bling lover, while still staying with an MRB, I would have chosen this stone and this modified Tiffany (I just got engaged!) setting which perfectly shows off this stunning
CBI
.