Now that we in the States have bellies full of Thanksgiving eats and the rest are getting ready for various and respective end-of-year celebrations, the holiday season is in full swing.
While we may be limited in how we can celebrate and how many can gather this year, enjoying a movie together in person or remotely is a simple, popular pre-pandemic activity that we can still take part in; the return of the drive-in is only proof of our unquenchable love of film.
Whether you're watching while social-distancing with your favorite people, or watching together remotely alone-but-together, here are a few movies that diamond and jewelry lovers (and their "normal" friends and family) will enjoy: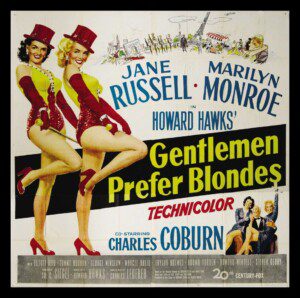 Gentlemen Prefer Blondes (1953)
"Diamonds are a girl's best friend" – says it all, doesn't it? Jane Russell and Marilyn Monroe, in her breakthrough role, play two friends that perform in nightclubs while looking for wealthy men to marry, and all the hijinks that ensue. Will they find money or love?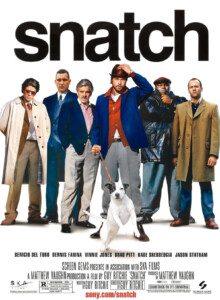 Snatch (2000)
Boxing promoter Jason Statham is having a very bad day, and it's going to get worse. All he wants is his scrappy new boxer, Brad Pitt, to do what he's told so they don't get on the local gangster's bad side. Unfortunately, a giant diamond, a pair of bumbling thieves, a dog, and a shady cast of characters do their unintentional best to hinder him.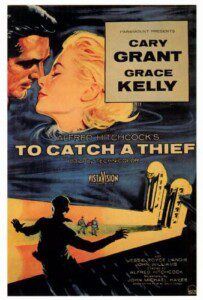 To Catch a Thief (1955)
Cary Grant and Grace Kelly reluctantly and suspiciously work together to catch the slippery thief behind a string of daring diamond robberies. Kelly is sure she already knows who it is, but is left wondering if he's after her mother's jewels, or if something else is brewing.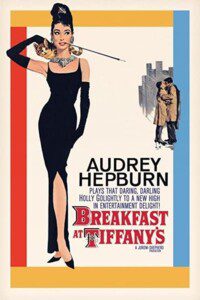 Breakfast at Tiffany's (1961)
Audrey Hepburn in that little black Givenchy dress. That necklace. That updo. Those sunglasses. Those Tiffany diamonds in the window. That Danish and coffee.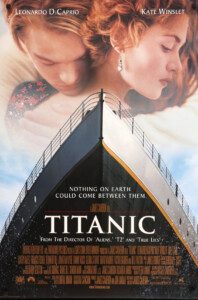 Titanic (1997)
Leonardo DiCaprio and Kate Winslet are star-crossed lovers separated by the class-divide in the Edwardian era. They're determined to stay together despite her family, certain poverty, and…. oh, a sinking ship.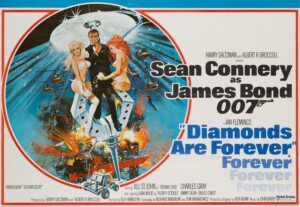 Diamonds are Forever (1971)
Sean Connery's (RIP) James Bond investigates diamond smuggling and uncovers an evil business tycoon's devilish plot. You had me at "space" and "lasers".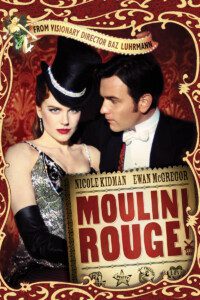 Moulin Rouge (2001)
It's Paris, at the height of the belle epoque. Ewan McGregor, a poor playwright, finds himself at the famous Moulin Rouge and promptly falls in love with its star performer, Nicole Kidman. Are his feelings reciprocated, or is this all a means to an end? (Fun Fact: Satine's necklace is custom-made and consists of a whopping 1,308 diamonds by Australian jeweler Stefano Canturi, who pulled it from being sold in a Christie's New York auction at the last minute. The estimate? A cool $1 million.)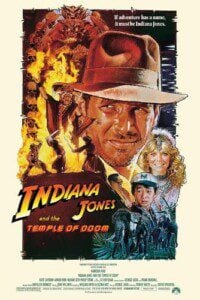 Adventurer archaeologist Harrison Ford is in India, on the hunt for the mystical Sankara diamonds. The ancient evil curse attached to them might be more than he bargained for.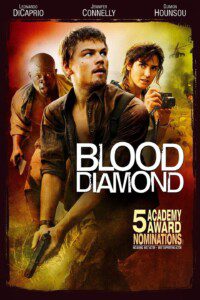 Blood Diamond (2006)
Sierra Leone, 1999: Leonardo DiCaprio is a diamond smuggler with his eye on a massive rough stone discovered by Djimon Hounsou. As the country's civil war rages around them, the two men and Jennifer Connelly's reporter face tough decisions as they fight to survive. A gripping, emotional film that depicts the horrors of the blood diamond trade.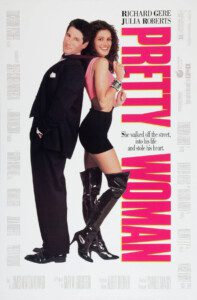 Pretty Woman (1990)
Rich businessman Richard Gere picks up Julia Roberts and to their mutual surprise, they fall in love. Are they brave enough to attempt a real relationship after he leaves Los Angeles? (Fun Fact: The diamond and ruby necklace Gere lends to Roberts is real. Made by French jeweler Fred Joaillier, it consists of 23 pear-cut rubies surrounded by diamond hearts and actually did cost the $250,000 Gere quotes in the movie at the time. Now, the necklace is estimated at about $1.35 million.)
Get cozy with your favorite beverage and snack, and share some of your favorite movies featuring diamonds and jewelry – they might show up on the list in Part Two!
Written by Gloria Cheng