Blue engagement rings are set to be one of 2021's top engagement ring trends. Here are our top favorite engagement rings with a touch of blue as well as an engagement ring alternative for those who want to follow the something blue trend without feeling left out. Our trusted vendors have a little something for everyone no matter the season or occasion.
SOMETHING BLUE: ACCENT STONE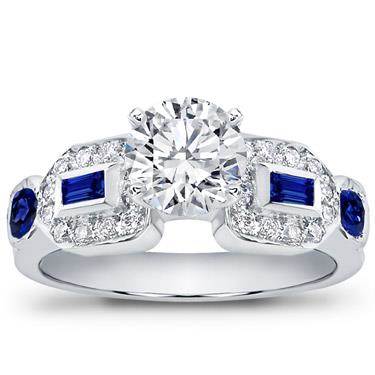 Just because blue engagement rings are in fashion for 2021 doesn't mean that you have to give up white diamonds altogether. Instead, incorporate your something blue in the form of an accent stone. It will give you the exact pop of color you want without having to sacrifice the traditional look of a white diamond center stone. You have the best of both worlds without having to choose one or the other.
SOMETHING BLUE: MAIN EVENT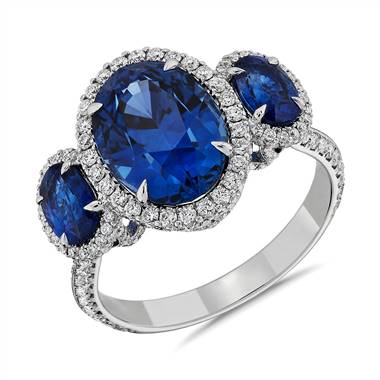 If you know you love blue and lusted after a blue engagement ring long before they came into fashion (or at the very least, wanted one since THAT wedding in 1981), then this look is for you. You're all in and know exactly what you want and that is a blue engagement ring. You aren't one to fall for trends which is how you know you are in true blue love with this look and in it for the long haul. This is why we recommend you say "I do" to a vibrant blue sapphire.
SOMETHING BLUE: MINIMALIST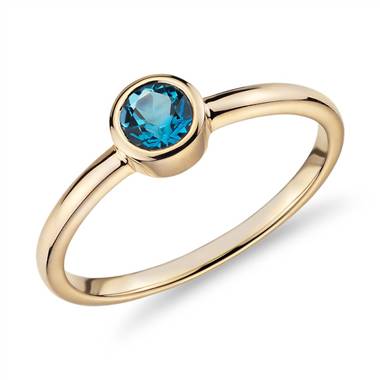 There are a variety of engagement rings for all types of styles which means that minimalists who love the look won't feel left out in the cold. We love the look of this minimalist, blue topaz engagement ring because it's elegance is located within its simplicity. This is the true essence of the minimalist style.
SOMETHING BLUE: MIX AND MATCH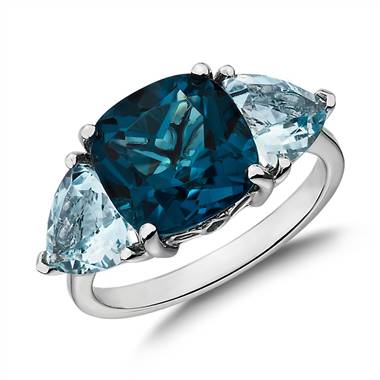 Why have one blue stone when you can have two? Three stone engagement rings are another trend and the epitome of what you see when two trends and blues collide. We love this three-stone look and the mix and match of blue hues really take this engagement ring to the next level. This engagement ring is red-carpet worthy and anyone wearing this ring is very lucky indeed!
SOMETHING BLUE: STACK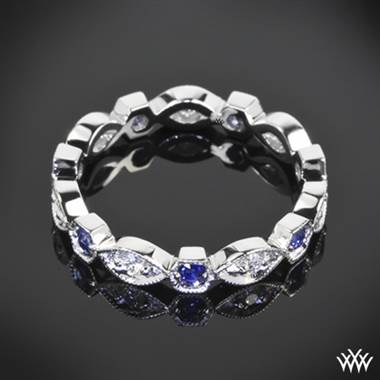 Stack your engagement ring with something blue. This incredibly stylish, the "Odyssey" Diamond and Blue Sapphire Right Hand Ring is ready to wear on its own, with an engagement ring or even stacked. This a 7 A CUT ABOVE® Hearts and Arrows Diamond Melee (0.21ctw; F/G VS) alternate with 7 dazzling blue sapphires (0.34gtw) and the ring is topped off with milgrain edging.
Blue engagement rings are timeless and we can't wait to see this trend reemerge in 2021. We highlighted four different ways to incorporate blue in your engagement ring and an engagement ring alternative, all of which look phenomenal. Whether you're gifted with an engagement ring or opt to treat yourself – we hope that you add something blue to your 2021 jewelry box.
Written by Ashley Boykin