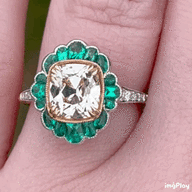 Joined

Jan 29, 2012
Messages

6,141
This really has been the longest project I've ever worked on. I guess I'll start with the very beginning. Just over a year ago, I purchased a gorgeous 1.59ct, O colored, ACV from August Vintage Inc (now Distinctive Gems). Unsurprisingly,
@Rhino
was a peach to work with and was happy to send me extra pics / videos and give his opinion on the color for this diamond newbie. I've lusted after his vintage cut cushions for years and my expectations were pretty high but this baby still blew me out of the water. It's gorgeous!
Stats:
1.59ct
Color: O
Dimensions: 6.65 - 7.20 x 4.5
Clarity: VS2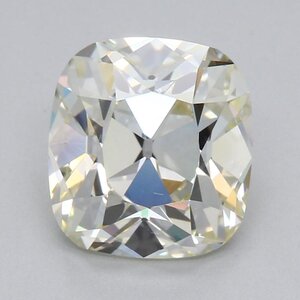 That purchase was just the beginning of a very long road for me. I spent months and months scouring the web for setting ideas. I knew I'd want a halo (because I'm a halo hoe
) but despite the numerous settings I had found and liked, nothing seemed to stick. Eventually, I had a light bulb moment and remembered that I'm a colored stone girl at heart. This baby was going to need some real color to work for me. I decided on an emerald halo. I found a setting I liked and and preformed a little mock up surgery to see how it could look.
Finally, my heart sang...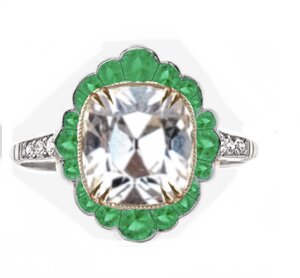 I immediately went to David Klass for some pricing and dang, those calibre cut emeralds are no joke. Still, it was totally worth it. I went forward with the project and spent many more months going back and forth on CADs. I'm sure I wore poor Amy's patience way down (not that she ever said a thing, sweet woman that she is). If you're interested in the overly long process I went through, here's the thread. A special thanks to
@Rfisher
and
@CHRISTY-DANIELLE
who were super supportive and helpful. Thank you guys!

https://www.pricescope.com/community/threads/help-setting-an-o-colored-1-59ct-avc-diamond.252103/
Last edited: