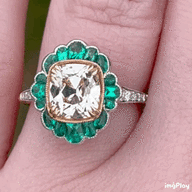 Joined

Jan 29, 2012
Messages

4,053
I'll be the first to admit that I don't venture over to "Rocky Talk" very often. All that talk about assets and HCA scores gives me the shivers. It probably explains why I'm a colored stone girl all the way. Having said that, there is one style of diamond that's always made me ooh and ahhh…and that's
@Rhino
's August Vintage cushions. I just love them! Those big chunky facets just make me swoon.

I have a couple of his AVC moissanites but I've always known I'd want one of his diamonds too. I was scrolling through Rhino's website (a common occurrence, I admit), when my eyes fell on this gorgeous O colored diamond.
https://augustvintageinc.com/collections/august-vintage-cushion/products/1-591ct-m-vs2-august-vintage-cushion-brilliant-74193915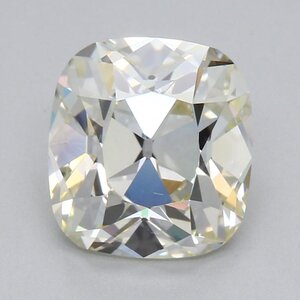 Stats:
1.59ct
Color: O
Dimensions: 6.65 - 7.20 x 4.5
Clarity: VS2
With a lot of encouragement (read: pushing) from my wonderful husband and one diamond centric dream, I finally took the leap.
@Rhino
was absolutely wonderful to buy from, which of course is no surprise to my fellow PSers. He is quite charismatic and left me feeling very confident with my purchase. Still, I was honestly kind of terrified it would show up and I'd hate the color. Having never seen a low colored diamond in person, I just wasn't sure what to expect. One brutal weekend later and I had it in hand…and it's absolutely gorgeous! I LOVE the color. It's like antique lace. Nice and creamy with a yellow undertone. Turns out, I'm definitely a fan of low colored diamonds.
Especially with an antique cut diamond.
Now I just need to figure out how to set it but this is where I definitely need help. I'm a halo girl all the way but the tint of my diamond contrasts quite a bit with my bright white diamond halos. So what's a girl to do? A rose gold ring? Unplated white gold? Yellow gold bezel?
I'll add a few pictures in just a little bit.