By Erika W.
The Bruce Museum explores the intimate art of adornment with a new exhibition, Bijoux: The Origins and Impact of Jewelry.
An array of jewelry, mineral specimens and gemstones illustrates the evolution of personal ornamentation. "Jewelry. It is the universal means to transmit personal information—marital status, wealth, heritage, and aesthetics. An artifact of world history, jewelry is evidence that the Earth, human culture, and technology have evolved."
Where: Bruce Museum – Science Gallery – 1 Museum Drive Greenwich, CT 06830
When: July 16, 2011 – February 26, 2012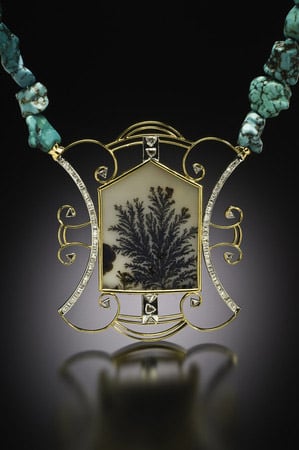 Photo: Bruce Museum
Designed by JiGisha Chawla Adlakha, the Ku Hai Winter Necklace features dendritic agate with black, raw, and mogul-cut diamonds set in gold. The necklace is courtesy of Paarijat: House of Indus Raj Nagar, Ghaziabad, India.
"Bijoux: The Origins and Impact of Jewelry investigates the wide range of materials used to make jewelry, from bones and fossils, to diamonds and CZs. Bijoux explores the ingenuity of artists to create adornment from a host of materials, from the common to the sublime. It delves into the genesis of these natural materials and explores the economic and environmental impact of our universal attraction to sparkle. Bijoux is a celebration of human nature and our ability to adapt."
Related Topics:

Van Cleef & Arpels Jewelry Exhibition
Cora Sun-Drop at the Natural History Museum in London
Does your E-ring match your occupation/lifestyle?
Do you flaunt your jewelry proudly?
Discuss on the Diamond and Jewelry Forum