It's Christmas Day, and we ring in the bling for the holidays (and every day…really, we just love bling!) The Show Me the Bling! forum is filled with gorgeous jewelry posted by members of the PriceScope Community. The Jewels of the Week are chosen from the recent posts in the forum. 
PS Member, Goldenmom kicked off December with her James Allen True Hearts Solitaire Ring. How lovely is this classic look? It speaks romance and timelessness. She plans to pair it with an eternity wedding band, and that is just perfection!
STATISTICS:
Carat Weight: 1.028 ct
Color Grade: ID/ID/G
Clarity Grade: VVS1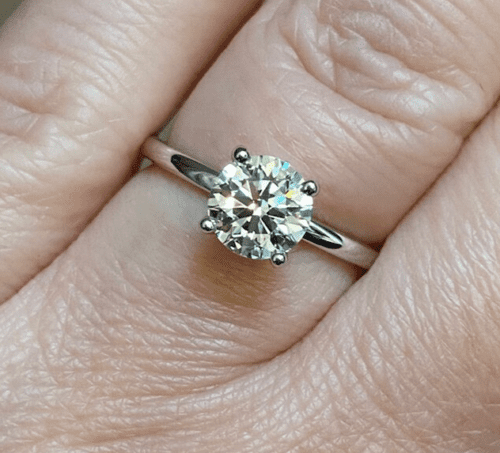 Gorgeous, Gorgeous, Gorgeous! Congratulations to Goldenmom, please come back and show us this beauty paired with your band!
PS Member, Susanj8 brought in week 2 with this glorious Whiteflash Vatche 5 Stone Trellis Ring. I love a 5 stone, it brings such a sparkle explosion. The trellis gives this ring an additional element of beautiful structure. Using 3 of the diamonds from the 3 stone ring that she got for her 10th wedding anniversary, they added 2 more and created this stunner for their 25th! Love it!
STATISTICS:
Ring Size: 8
Carat Weights: .55-.60ct
Color Grade: D-F
Clarity Grade: VS2
Metal: Platinum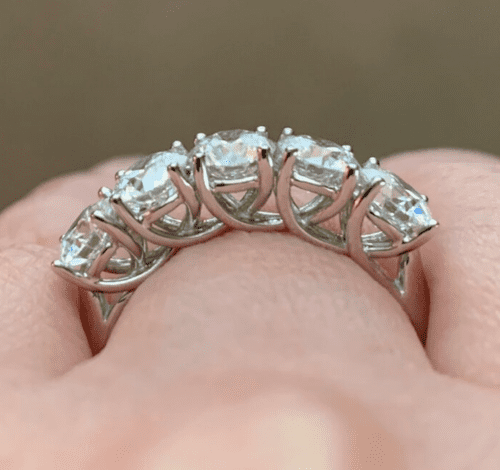 Congratulations on this beautiful ring, and your 25th anniversary! Can't wait to see what 30 brings!
PS Member, HS4S_2 posted this incredible 3 stone ray of sunshine. After having to endure a hard experience a blast of sunshine was necessary to help lift the grey clouds. Wow, this is just magnificent. We are so sorry for the hardship that brought about the purchase of this dazzler, we are glad you found a fireball to burn off some of the (more than understandable) gloom.
STATISTICS:
OEC Center:
Carat Weight: 2.16
Color Grade: N
8.02mm X 8.14mm X 5.24mm
OECs Side Stones:
Carat Weight:2 1.13
Color Grade: S – T

Total finger coverage is around 22mm. Each stone is held by 8 prongs in a crown setting.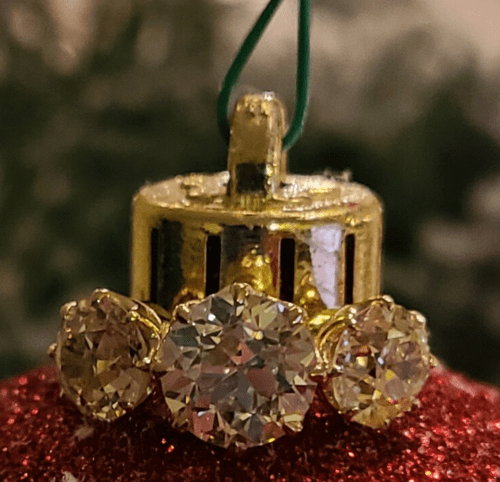 Thank you for sharing both your wondrous ring and your truth with us.
PS Member, Diamondhoarder posted this Prince Cut (scissor cut) in its platinum art deco style french cut ruby and diamond halo ring. What a transformation! This Prince Cut appealed to Diamondhoarder's fascination with unusual facet arrangements in diamonds. These visible scissor cuts are certainly not something that you see every day. It came in a setting that was pretty, but the art deco masterpiece that she ultimately turned it into is unbelievably beautiful. The ruby and diamond halo just lets the center diamond sing!
STATISTICS:
Carat Weight: 1.10 cts
Color Grade: F
Clarity Grade: VS2
Table: 74% depth 66.8% Girdle: thick
6.67 x 5.14 x 3.44mm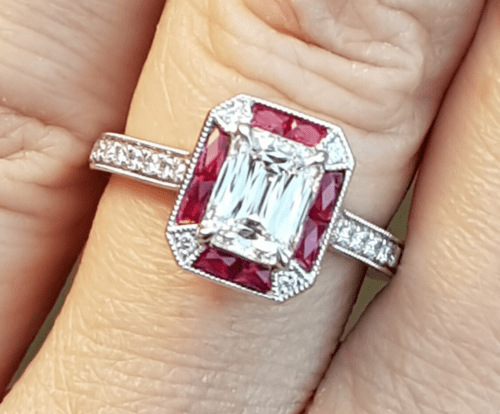 Congratulations on your new addition, you did a spectacular job with the choices that went into this. I  hope you wear it happily for years and years to come!
We want to see your new pieces, we are super excited to get to read your stories too! Come join the PriceScope Community today for free!
Written by Kayti Kawachi