By Erika W.


Classics for Your Jewelry Wardrobe
From classic to cutting edge, hoop earrings are essential to every woman's jewelry wardrobe. Hoops flatter all faces, and they never go out of style. This is the jewelry piece that allows you to go bolder and make a statement. Remember, you can't have too many hoops, so have fun and don't be afraid to try something more substantial.
Wondering what size is best for your face? Wider faces benefit from larger or thicker hoops, while those with narrower faces will look great in slimmer or more delicate styles. Many opt for the classic medium size, which is anywhere from 1-2 inches, but some prefer a smaller hoop or huggie when diamonds are featured. To get an idea of hoop sizes and different face shapes, visit stylebistro's hoop earring lookbook – a fabulous collection of celebrity images featuring a diverse range of hoop styles.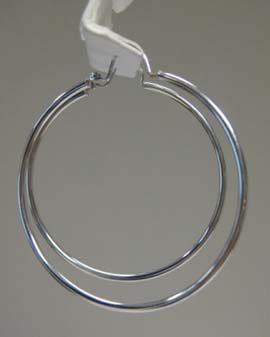 Posted by TravelingGal
Solomon Brothers hoop earrings
2 inch – 2mm gold hoops are a perennial classic. A sleek gold hoop will always be in style, so if you can only buy one pair, go with simple gold.
A fresh interpretation of the classic hoop – 14k recycled gold and diamond earrings by Lauren Ramirez – handforged with 1ctw of diamonds – 1.5 inches
Add some sparkle with 1.66ctw inside outside diamond hoop earrings from I.D. Jewelry.
Perfect for summer, these 18k yellow gold and turquoise hoops by Ippolita will take you from the beach to cocktails.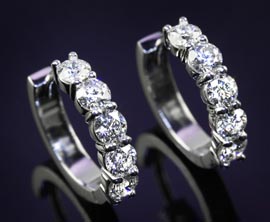 Posted by metromom
Photo by Whiteflash
These 1ctw shared prong diamond hoops by Whiteflash feature 10 ideal cut diamonds of F/G color and VS clarity.
Gurhan's .5 inch 24K gold hoops feature .24 ctw of diamonds. Très chic.
Diamond huggies add a hint of sparkle and are perfect for everyday wear.
Get twiggy with these recycled 14k gold hoops by Etsy's Kristin Coffin. The textural hoops are 1.5 inches in diameter and 1.7mm thick.
An edgy version of the traditional silver hoop, these carved hoop earrings by Jane Diaz are cheap and chic.
Think pink with these natural pink diamond earrings by Diamonds by Lauren. This pair is 3/4 inch in diameter with .49 ctw of pink diamonds set in rose gold.
It's hip to be square in gold hoop earrings. These 1.5 inch hoops by Melissa Joy Manning have a soft edge.
Related Topics:

Diamond Hoops…what do you think?
Share your hoop earrings: Show Me the Bling!