From the first diamond discoveries in India to the sale of the Krupp diamond in 1968, Brilliance.com has outlined the history of diamonds in the colorful infographic shown below.
Condensing the history of diamonds into an infographic would be daunting task for any expert. We would add Christie's December 2011 evening sale of Elizabeth Taylor's jewelry collection, which broke auction records by garnering $115.9 million. We'd also include the sale of the 24.78-carat Graff Pink diamond, which fetched $46 million in November 2010. The rare pink set a new world record for any diamond or jewel sold at auction. And we'd definitely include De Beers' slogan, "A Diamond Is Forever," which was developed by advertising agency N.W. Ayer in the 1940s and changed the course of engagement ring history.
What historical moments would you include? Share your ideas on the Forum.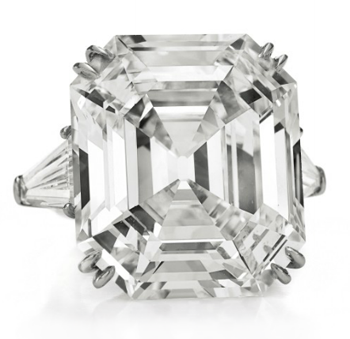 The 33.19-carat Elizabeth Taylor Diamond, formerly known as The Krupp Diamond, sold at Christie's in 2011 for $8.8 million. The diamond was originally purchased by Richard Burton in 1968 for $305,000.
Related Topics:
The Most Expensive Jewelry Ever Sold at Auction – Infographic


2011 Wedding Statistics Infographic