By Erika W.
XO Group Inc., owners of The Knot and WeddingChannel.com, announced the results of its annual Real Weddings Survey, which tracked almost 18,000 US couples married in 2011. The survey focused on overall wedding budget with breakdowns of event planning costs, location, style preferences, wedding dresses, and engagement rings.
"For the first time since 2008, wedding budgets are on the rise," said Carley Roney, cofounder of The Knot. "In 2011, one in five US couples spent more than $30,000, and 11% spent more than $40,000 on their weddings. Our research shows that couples and their families are less concerned with the economy and are increasingly comfortable investing more in the once-in-a-lifetime occasion of their wedding."
Do the following statistics reflect your wedding budgets? Discuss the Real Weddings Survey on the Bride World Wide forum.
2011 Wedding Statistics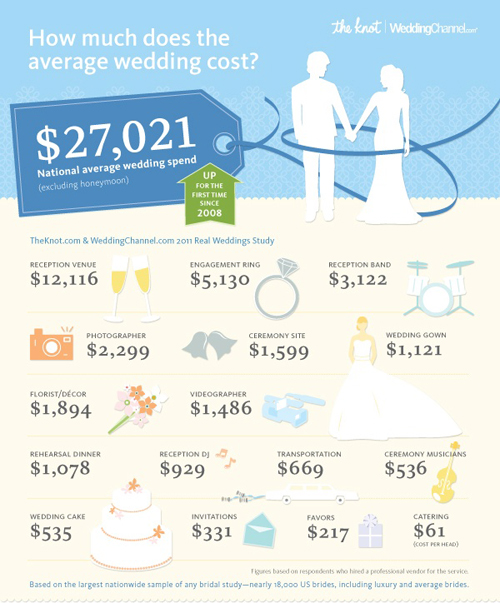 • Average Wedding Budget: $27,021 (excludes honeymoon)
• Most Expensive Place to Get Married: Manhattan, $65,824 average spend
• Least Expensive Place to Get Married: West Virginia, $14,203 average spend
• Average Spent on a Wedding Dress: $1,121
• Average Marrying Age: Bride, 29; Groom, 30
• Average Number of Guests: 141
• Average Number of Bridesmaids: 4-5
• Average Number of Groomsmen: 4-5
• Most Popular Month to Get Engaged: December (16%)
• Average Length of Engagement: 14 months
• Most Popular Month to Get Married: September (15%)
• Popular Wedding Colors: Blue (30%), Purple (25%), Green (24%)
• Percentage of Destination Weddings: 24%
2011 Average Wedding Budget Breakdown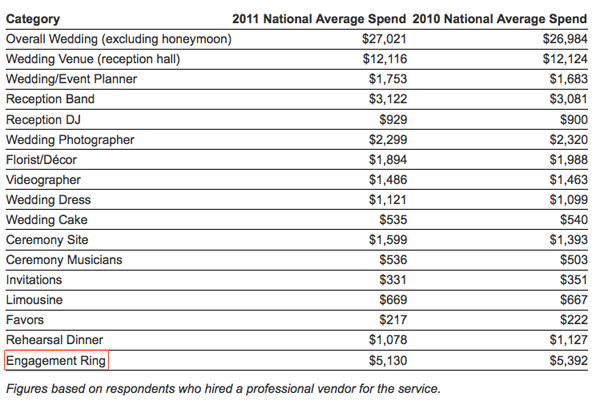 Survey shows engagement ring spending is down a bit from the previous year.
Related Topics:
The Knot Survey – Average Price for an Engagement Ring? $5,200
Retail Diamond Price Statistics