By Erika W.
The Diamond Development Initiative International (DDI) has been awarded a grant from Cartier. The grant's focus is to implement "Development Diamond Standards" for artisanal diamond production. DDI is working with local leaders in Sierra Leone to locate mining sites that are environmentally sound–where diamond diggers can work under safe conditions and receive fair prices. Diamonds will be tracked though the supply chain to provide consumers with stones that "go beyond standard definitions of 'ethical' and 'fair trade' products." Cartier's grant will also help DDI with current projects including human rights training and a registration project in the Democratic Republic of the Congo bringing over 70,000 miners into the formal sector.
"I have just returned from a month in the Congo and I can say that Cartier's support is not just a vote of support for our work, it is a solid example of how the concept of corporate social responsibility has expanded beyond the immediate corporate environment to a wider world of development possibilities," said DDI's Executive Director, Dorothée Gizenga.
Artisanal mining is small scale and typically non mechanized. Miners use shovels, picks and sieves to extract rough from alluvial deposits in riverbeds, streams and along the banks. Approximately 1.3 million artisanal diamond diggers work to support families throughout Africa. Many earn less than one dollar per day.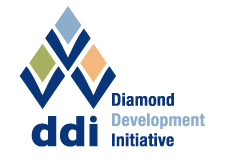 The Diamond Development Initiative is a multi-stakeholder platform, which brings NGOs, governments, and the private sector together to address the livelihood and problems of artisanal diamond miners.
Related topics:

Interview with Dorothée Gizenga, Executive Director of DDI
Rock Walk Album for DDI International
Video: Rapaport Fair Trade Diamond, Jewelry Panel Discussion