By Erika W.
Some of the latest stories in diamond and jewelry news…
Wall Street Journal: A British Affair
From symbols of monarchic power for the Diamond Jubilee to sporting motifs for the Olympics, local jewelers go to town.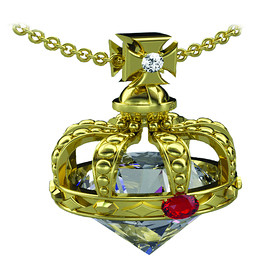 Garrard's Diamond Jubilee Pendant
CNBC: Watch and Jewelry Retailers Eye Asia as Basel Fair Opens
As the world's biggest watch a jewelry fair opens its doors to 100,000 visitors in the Swiss town of Basel on Thursday, chiefs from some of the most exclusive luxury brands told CNBC they were optimistic about 2012.
LA Times: A $5-million watch, the world's most expensive, unveiled at show
The world's most expensive wrist watch, encrusted with 1,282 diamonds, was unveiled by Swiss watchmaker Hublot, according to a report by AFP.
The New Jersey-area jewelry store owner talks to MTV News about the $55,000 ring that Jionni LaValle designed.
Israeli Diamond News: Diamond Corporation Harry Winston to Open Flagship Store in Shanghai
The Canadian mining group Harry Winston has announced it will be opening a retail jewelry store in Shanghai's prestigious XinTianDi shopping district, according to IDEX Online.
Diamond Investing News: Marange Diamonds: A Game Changer?
Marange diamonds could be a game changer for Zimbabwe and for the diamond industry. In a nation desperate for revenue and investment, diamonds could equate to an important economic solution.
Idex: Diamond ETF Filing Submitted to SEC
IndexIQ, a New York based investment firm, filled with the Securities and Exchange Commission (SEC) to register IQ Physical Diamond Trust, an exchange traded fund (ETF) backed by diamonds.
Rogue Traderette: Are Diamond ETF's a Girl's Best Friend?
…Only if they give a Diamond Dividend every 6 months.
Related Topics:
British Royal Jewels Exhibition, "Diamonds: A Jubilee Celebration"
Largest Australian Pink Diamond Found and Other Jewelry News