Eli22 posted this gorgeous emerald cut eternity ring on the Show Me the Bling forum at PriceScope.  I love an eternity ring (who doesn't), and this is a fantastic example of the style!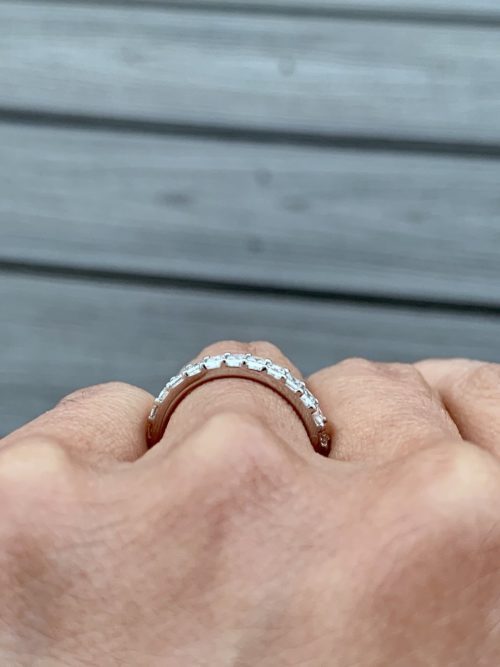 Yekutiel at ID Jewelry was forthcoming with Eli22 about stones and how they could best be set. The ring wasn't going to fit Eli22's initial vision exactly, but they were going to work with the stones to make the best ring possible, and they absolutely did that! Eli22 said "I received the ring and it was as sparkly and beautiful as ever. At first, I was so set on having an open basket setting, that I didn't appreciate how the ring actually looks better on my hand. My fiancé even said he liked this setting better (he never notices anything, lol)! I also noted how well it fits with my ER – it sits much more flush than the open basket setting did. The prong work also appears more delicate vs the first iteration (comparison pics with first ring on left, new ring on right). I'm super happy with my ring and am so glad that IDJ worked with me!"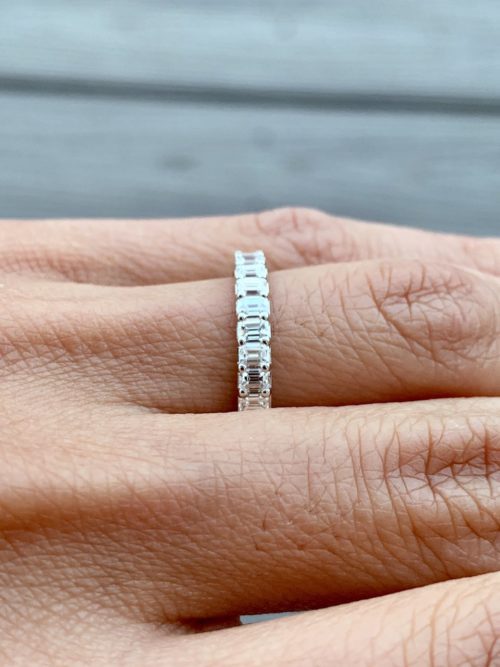 Big kudos to Eli22 for this new addition to her collection, it's truly lovely!
Visit the original post with more pics and join me in congratulating Eli22!
The Jewel of the Week is our chance to feature and appreciate a recently posted piece from the Show Me the Bling Community!
Thank you so much for sharing your jewelry experiences with us. We look forward to seeing more!
#JOTW
Come show off YOUR fantastic bling with fellow jewelry lovers and trade professionals
Learn more about buying emerald cut diamonds on PriceScope!