Catmom posted this fabulous jewel encrusted butterfly brooch on the Show Me the Bling forum at PriceScope.  She's done it again! PriceScope's resident Entomologist of extravagance has added another incredible creature to her collection!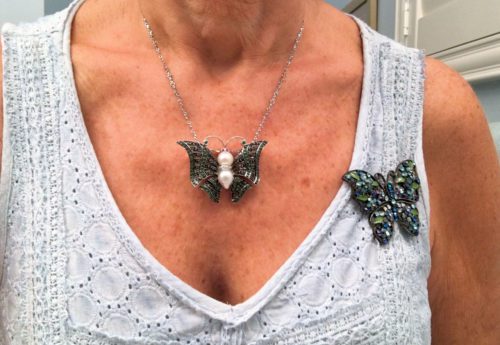 Catmom had been eyeing this winged wonder for awhile, now that her 39th wedding anniversary has arrived her sweet husband told her to pull the trigger! I always imagine that Catmom has her beautiful bug collection displayed in a glass display case on her wall, because they are so beautiful and beloved!
This brooch can be also be worn as a pendant and it is a statement piece to be sure. I love the colors and the body shape. This is just a really cool find, I am always so impressed by the skill of PriceScopers to find the jewelry that really speaks to them! If I saw this in a store, I would probably immediately think of Catmom, and I know I am not alone!
Gorgeous, this butterfly could land on me anytime! Congratulations on your 39th Anniversary! I can only imagine what 40 will hold!!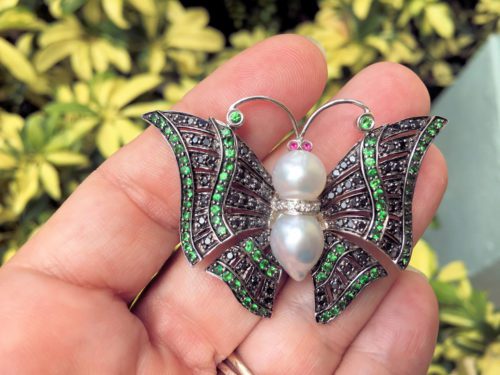 Stats:
18kt white gold with tsavorites, rubies, pearls, white diamonds and black diamonds
Visit the original post with more pics and join me in congratulating Catmom!
The Jewel of the Week is our chance to feature and appreciate a recently posted piece from the Show Me the Bling Community!
Thank you so much for sharing your jewelry experiences with us. We look forward to seeing more!
#JOTW
Come show off YOUR fantastic bling with fellow jewelry lovers and trade professionals
Learn more about fancy color diamonds on PriceScope!