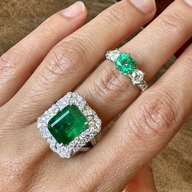 Joined

Jan 2, 2018
Messages

105
After some back and forth, I finally got my ring back from IDJ mid-July [late, late post]!
On this
post
, I was told that my ring would be remade with a slightly different open basket setting (since the original ring was misshapen/uneven). Fast forward a few weeks after I sent the ring back (early June) - I get an email requesting that I call IDJ to speak with Yekutiel.
On the phone with Yekutiel (btw he is the nicest man), he told me that he was sad to report that the remake was even worse! He said that they were experiencing difficulty with the small stones (0.07ct) in that type of setting, so they decided that a closed basket (or "comfort") setting was better. He also mentioned that if for any reason, I was not happy with the ring, I can send it back and they will take care of it. I appreciated his honesty, as well as his dedication to ensuring I was happy with the product, so I gave them a go-ahead.
I received the ring and it was as sparkly and beautiful as ever. At first, I was so set on having an open basket setting, that I didn't appreciate how the ring actually looks better on my hand. My fiance even said he liked this setting better (he never notices anything, lol)! I also noted how well it fits with my ER - it sits much more flush than the open basket setting did. The prong work also appears more delicate vs the first iteration (comparison pics with first ring on left, new ring on right). I'm super happy with my ring and am so glad that IDJ worked with me! Without further ado, here is my EC eternity band <3 (sorry for the huge photos!)