Elle_71125 posted this stunning deep pink Mahenge Spinel ring on the Show Me the Bling forum at PriceScope.  This ring is TDF, that pink is off the charts! Everyone needs a pop of color in their lives!
So elle_71125 may have a thing for pink spinels, but she is certainly not alone! Her spinel collection is incredible, and it is amazing to see how very different they all look while still having that gorgeous big bright pink stone as the star!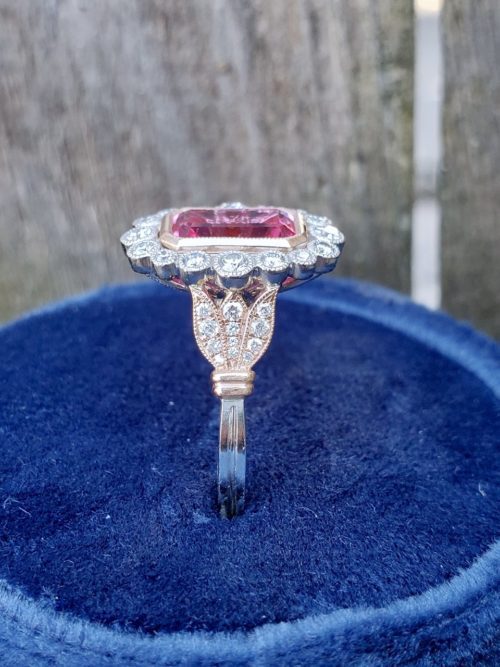 David Klass Jewelry really did a magnificent job with this, and when the first version that they sent her wasn't exactly what she had in mind they recreated it with no hesitation! PriceScopers know what they want, they are studied and have generally pictured something for months before it finally arrives! It is wonderful to hear that they came through with elle_71125's vision!
Stats:
It's made in a combination of rose gold and platinum. The halo and shank are platinum, while the center stone bezel and shoulders are rose gold.
Details on center stone:
Precision emerald cut pink Mahenge spinel
1.67ct
8.6×5.3×3.95
Small feather off to the side
Big kudos to elle_71125 for this new addition to her collection, it's truly lovely!
Visit the original post with more pics and join me in congratulating elle_71125!
The Jewel of the Week is our chance to feature and appreciate a recently posted piece from the Show Me the Bling Community!
Thank you so much for sharing your jewelry experiences with us. We look forward to seeing more!
#JOTW
Come show off YOUR fantastic bling with fellow jewelry lovers and trade professionals
Learn more about buying colored gems on PriceScope!