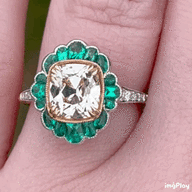 Joined

Jan 29, 2012
Messages

6,027
I don't know how many of you already know this about me but I kinda have a things for pink spinels. I just love them.
I started with a Mahenge spinel from CvB, which I am crazy about, but it tends to be more cherry colored (hence her name, Cherry Bomb). I still wanted a straight pink spinel without the red.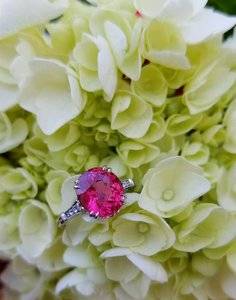 So I bought this gorgeous pink cushion from
@arkieb1
. Fantastic color but I still wanted that pink, pink, pink.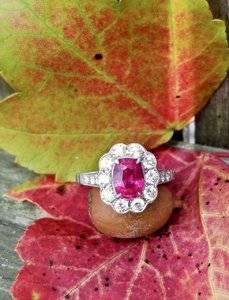 And then this (still to be set) pink Mahenge from GranGem. This baby has incredible fluorescence so it looks amazing under the sun. Alas, it still has a little more red than I wanted.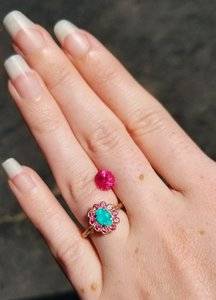 Finally, I saw this gorgeous hot pink Mahenge spinel from GranGem on Etsy.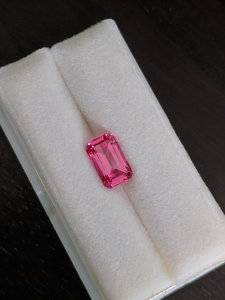 I was crazy about its straight up pink color but it was an emerald cut so I added it to my "favorites list" and moved on. I just don't know what to do with emerald cut gems (way outside my wheel house
). Besides, I already have plenty of pink spinels, right? Right? Anyway, I kept going back and looking at it (because that color) but I couldn't pull the trigger...until one day, when a gorgeous new ring popped up on here.
@D&T
shared her brand new creation and I practically swooned. It was stunning! For those of you who don't remember...here you go. She has since sold it (the PS turnover rate is legendary
).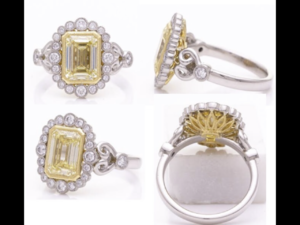 I loved the way the emerald cut had been softened with a rounder halo. This was the sign I'd been waiting for so I snapped up the emerald cut Mahenge, reached out to D&T for some helpful advice, and sent the spinel off to the wonderful David Klass Jewelry. After the standard waiting period, they were finished. Sadly, it wasn't love at first sight. The halo had little "stems" holding it onto the center stone. I was disappointed, honestly.
The stems didn't show up during the CAD phase, unfortunately, and I wasn't able to foresee that issue (because I still suck at reading CADs). I shared my feelings with the team at David Klass jewelry and they went above and beyond to make sure I was happy. The ring went back into production. This was all a great reminder of why I work with DKJ almost exclusively. They are freaking awesome!!!



So I guess it's time to share my new ring, huh? Ok, here goes...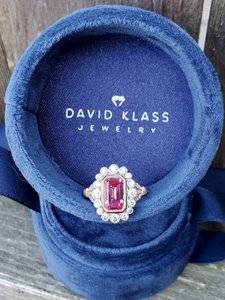 I used a combination of rose gold and platinum. So the halo and shank are platinum, while the center stone bezel and shoulders are rose gold.
Details on center stone:
Precision emerald cut pink Mahenge spinel
1.67ct
8.6x5.3x3.95
Small feather off to the side
More pics coming up.