PreRaphaelite posted this beautiful buttercup set diamond ring on the Show Me the Bling forum at PriceScope.  Buttercup settings really are a lovely way to make the stone the star! This OEC looks phenomenal seated inside the golden flower!
As OEC impulse buys go, this is a particularly marvelous one! The gold is creamy and rich and the diamond sings! This ring is dated as circa 1910s and is Edwardian, but the buttercup is also found in Victorian era jewelry. Such beautiful frame for an old cut diamond! Well done PreRaphaelite, this is fantastic!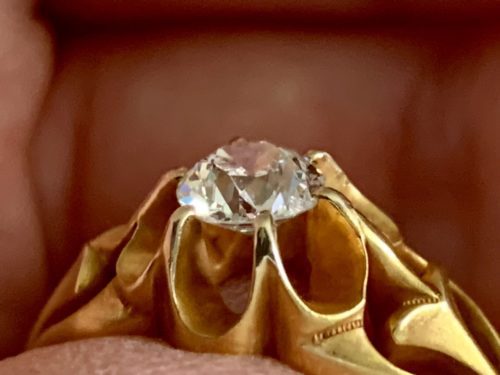 She named her Buttercup as an homage to the setting, but it also makes me think of the beautiful Princess Buttercup in The Princess Bride. I think the name is perfect!
Stats:
PreRaphaelite says: "14k 'bloomed' gold, circa 1910, with a 5.3mm old cut. Probably an H/I color as this is whiter than Edwina's official L. And probably an SI for inclusions visible under 60x, but the kozibe* prevents anything seen at 10x so who cares, right? Not sure I should bother with having her graded.
When I opened the box I literally gasped and had to cough. I can't think of a better name to captures her loveliness. The photos cannot do her justice. She is amazing in person."
*The Kozibe Effect shows up in antique cuts that have a larger culet, the combination of proportions causes the reflection of the culet to be visible through the crown facet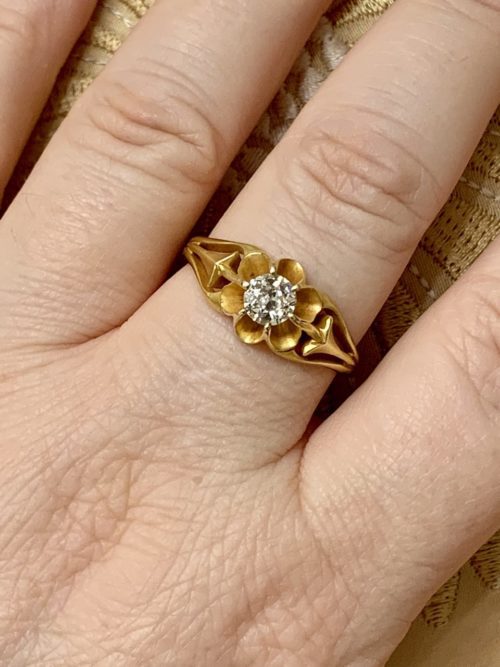 Big kudos to PreRaphaelite for this new addition to her collection, it's truly lovely!
Visit the original post with more pics and join me in congratulating PreRaphaelite!
The Jewel of the Week is our chance to feature and appreciate a recently posted piece from the Show Me the Bling Community!
Thank you so much for sharing your jewelry experiences with us. We look forward to seeing more!
#JOTW
Come show off YOUR fantastic bling with fellow jewelry lovers and trade professionals
There is also a forum just for discussing and sharing Antique and Vintage Jewelry on PriceScope!