Dianabarbara originally posted this heavenly engagement ring and story on the Show Me the Bling Forum at PriceScope. This story has certainly seems to have some elements of romantic magic about it. Dianabarbara and her intended with engagement ring shopping armed with the type of knowledge that only PriceScoper's come with. Prepared, knowledgeable, observant, and confident, she snagged her dream ring at a dream price!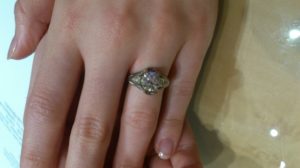 Searching for 8 months, they had several false starts and near misses. They had begun to believe it would never happen, they would not find a ring that was THE ONE, for THE PRICE. We all want to dream about price not being a factor, but budget is a concern for most people, that doesn't mean you can't have something divine!  PriceScopers are lucky to have a team of people to answer questions and give us every advantage in finding our dream pieces!
Setting the Scene For Romance
Dianabarbara got to do some traveling on her search, it ultimately became an adventure that culminated in this gorgeous ring that was stunningly underpriced! While negotiating the best price, knowing this was THE ring, her fiance slipped her a note that just said YES. That could be a moment from a romantic movie, I can just picture them there at the jewelry counter.
We hope that this ring has been worn in health, wealth, and happiness in the intervening years and that you go take a moment to read the story. I really hope she still has the "YES" card somewhere, I know I would 😀
On Throwback Thursdays, we celebrate beautiful pieces that have been shared over the years!
Thank you so much for sharing your jewelry experiences with us. Keep revisiting PriceScope's past with us each Thursday!
#TBT
Come show off YOUR fantastic bling with fellow jewelry lovers and trade professionals
What should you know before you engagement ring shop?