JuicyTNA originally posted this phenomenal classic solitaire engagement ring on the Show Me the Bling Forum at PriceScope.  If you have caught on to my own personal taste, I lean a little more to the non traditional, but classics are classics for a reason! Solitaires, like this one, are what most people picture when thinking of engagement rings.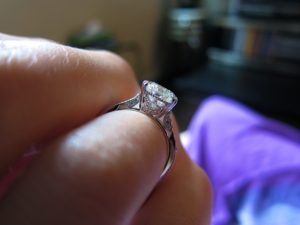 "It is a custom hand-made setting by Ryder Diamonds in Hong Kong. The design was inspired by Tacori's 2638. It is a cathedral setting that has a micro pave side of diamonds, as well as side facing diamonds, milgrain details and double-claw 4 prongs. It features 2 small leaves on the basket with diamonds in the middle because his last name is Ip which in Chinese means leaves." said JuicyTNA and I feel like that description was outstanding so I left is as is. <3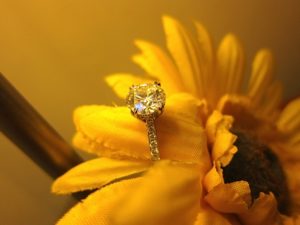 Re-imagining a classic and creating something unique and custom is such a fantastic adventure. You can maintain that look that is the standard for beauty, while having your own touches to represent your personal journey. It's an amazing symbol of love, and a fabulous marker for the beginning of a new chapter in life's story.
The Stats:
– 2.07ct round brilliant, 0.31ct side diamonds, tcw of the ring is 2.38ct.
– GIA Triple Excellent
– I Color
– SI2 (100% eye clean)
– No fluorescence
– Ring size 5.75
Go visit the original post from 2013 to learn more and see more great pics!
On Throwback Thursdays, we celebrate beautiful pieces that have been shared over the years!
Thank you so much for sharing your jewelry experiences with us. Keep revisiting PriceScope's past with us each Thursday!
#TBT
Come show off YOUR fantastic bling with fellow jewelry lovers and trade professionals
Learn the Anatomy of a Round Brilliant Diamond