Cristallo posted this decadent beauty on the Show Me the Bling Forum on PriceScope. So stunning, I love this ring and the way looks sitting on her finger! This is the dream ring for Cristallo, and you can certainly see why!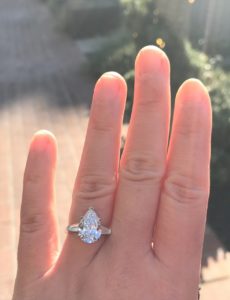 The way that this looks on her finger is #goals to me, I love the coverage and the amount of sparkle it emits. The gorgeous pear brilliant cut diamond was sourced from Jonathan at August Vintage INC and the setting is from the incredible Victor Canera and speaks to his excellence. Congratulations on this amazing acquisition, and even more so for your Engagement!
The Stats:
Pear Brilliant
3.01 ct
12×8.04×5.10
Color: F
Clarity: VS1
Go see the post with more pics!
The Jewel of the Week is our chance to feature and appreciate a recently posted piece from the Show Me the Bling Community!
Thank you so much for sharing your jewelry experiences with us. We look forward to seeing more!
#JOTW
Come show off YOUR fantastic bling with fellow jewelry lovers and trade professionals
Learn more about Pear Cut Diamonds