MakingtheGrade originally posted this phenomenal fancy light marquise diamond ring in the Show Me the Bling Forum at PriceScope. MakingtheGrade does it again! We can always count on something that is not only breathtaking, but uniquely so, when MakingtheGrade posts something new. This is not a ring style that I have seen done a lot, and with the sheer quantity of jewelry that I set my eyes on that is incredible.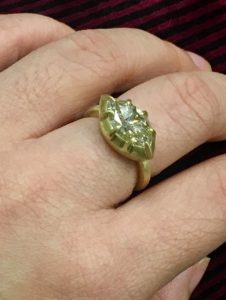 When much of the US is blanketed in show, with more on the way, this burst of fancy colored marquise sunshine was just what the meteorologist ordered. The need to fend off the dull grey leads so many to surround themselves in sparkle and light. This was a PS family piece, the diamond was sourced and fostered by PS'ers, to ultimately find it's forever home and be treated beautifully!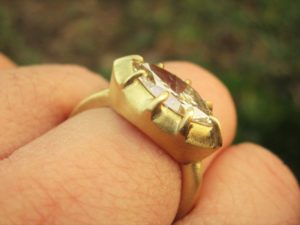 The Stats:
2.22 ct fancy light brownish yellow marquise in 18k yellow gold Georgian inspired Collette ring
Thank you so much for sharing this magnificent marquise, and congratulations on a successful conclusion to another fabulous jewelry adventure! Can't wait to see what you have in store next!
Go see the post with more pics!
The Jewel of the Week is our chance to feature and appreciate a recently posted piece from the Show Me the Bling Community!
Thank you so much for sharing your jewelry experiences with us. We look forward to seeing more!
#JOTW
Take a moment to become familiar with the Marquise Diamond Cut!
Learn more about brown diamonds on PriceScope
Come show off YOUR fantastic bling with fellow jewelry lovers and trade professionals