By PS Staff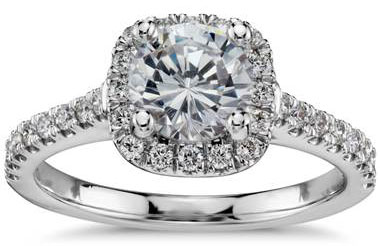 Cushion Cut Halo Diamond Engagement Ring Setting, $1,480

at Blue Nile
Cushion cuts have been popping up everywhere and more people than ever before have been asking us what makes them so special and how should they select one for someone special. Well, have no fear, because we're here to help you find the best cushion cut for your budget.
Popularity. The cushion cut has been garnering a ton of interest in just a few short years. Although there are multiple types of cushion cut diamonds, the most popular one is the "crushed ice cushion." Crushed ice cushion cuts have an indistinguishable table and appear like a million pieces of glass and ice sparkling within when viewed from above. If you want a cut which packs a lot of sparkle in a little space, definitely go for the crushed ice cushion cut.
Great for Fancy Colors. Cushion cut diamonds retain color well, but we recommend purchasing a diamond with a color grade of H or higher. This way, you can be sure than whichever color you select will be displayed to the best of its ability. For extra bang, make sure that you combine that fancy color with a minimum clarity of SI1 or SI2.
Do Your Research for Online Purchases. It is tempting to find a cushion cut within all of your dimensions and want to jump at the opportunity to purchase it. Don't. Cushion cuts have a broad table which highlights inclusions and makes them harder to hide in a setting. Eye clean for a cushion cut diamond versus a round diamond can have vastly different effects. To combat this discrepancy, ask to make an appointment to see the diamond in person or ask to ship the diamond(s) so you can view/compare. If this is not possible, purchase the diamond online from a company with high-resolution photos and a favorable exchange policy in case the diamond is not exactly what you want.
The cushion cut craze has not diminished one bit. Interestingly enough, many of our vendors are remarking that interest in their cushion cut diamonds has increased significantly. Cushion cut diamonds tend to reflect light extremely well and you can still find many great bargains out there if you just know what to look for.
Visit our "Cushion Cut Diamonds" tutorial for more information.
Visit our Forum Members' thread on Cushion Cuts! A Collection . . . for lots of photos, there are 14 pages. If you haven't included yours, please click link above (Cushion Cuts! A Collection . . .) and press "post reply" to add photo(s) and/or comments; we'd love to see it.
Visit our "Resources >> Jewelry Search" on Cushion Cut Jewelry to shop.