By PS Staff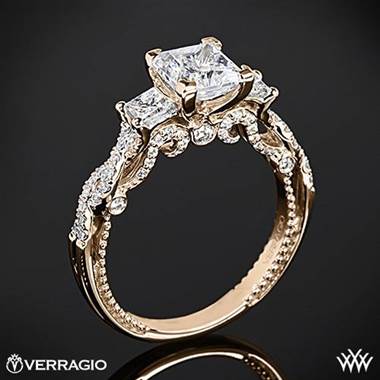 Verragio Beaded Braid Princess 3-Stone Rose Gold Engagement Ring, $4,800

at Whiteflash
Vintage engagement rings have seen a resurgence in the past year and with good reason. Many of today's trends are a direct result of the engagement ring designs of yesteryear. One reason we love the following looks is because they open up the possibilities of what makes an engagement ring. Although "diamonds are forever" many vintage designs incorporate pearls, gemstones and sometimes omit diamonds completely to create their one-of-a-kind masterpieces.
There are four major vintage engagement ring styles which have been taking the wedding world by storm – Georgian, Victorian, Edwardian and Art Deco. These eras will comprise the majority of vintage engagement rings and styles you will find today.
Antique rings are exquisitely intricate and are great for those on a budget. Their easy-on-the-budget characteristics come courtesy of the rings use of gemstones and pearls. However, don't automatically assume that a vintage engagement ring that comes sans diamond will be inexpensive. Gemstones popularity is increasing and higher quality stones are being used which means that one may find that a vintage ring can exceed the cost of a traditional engagement ring.
What's Your Style?
The four major vintage styles have distinct looks that are perfect for narrowing down the vintage engagement ring search.
If you're a nature lover, the Georgian look is for you. Engagement rings during this period were characterized by nature and the outdoors. As an added bonus, nature is one of the biggest trends in engagement ring design for 2016, so it's right on trend for this year.

Romantics at heart should choose to wear a ring from the Victorian era. Queen Victoria's love for her husband Albert is widely known and her love inspired that romance to trickle down to engagement rings.

Elegant and graceful, then an Edwardian ring belongs on your ring finger. Light, lacy and ethereal, Edwardian rings bring a type of elegance and grace rarely seen in today's styles.

Sapphires, rubies and emeralds make you weak in the knees? Then please visit the Art Deco era and find a beautiful engagement ring while you're there . . . big, beautiful, architectural and colorful, right on time for today's gemstone trend.
Vintage engagement rings are captivating buyers and designers everywhere. Whether you are in the market for an authentic vintage engagement ring or a modern interpretation of one, the sky's the limit for your desires.
Visit our "Antique and Vintage Jewelry" or "Antique Engagement Rings" for a plethora of information i.e. photos, vendors, etc.
For photos, visit our Forum Members' threads:
Show us your Antique/Vintage and Reproduction Rings
Show Me Your Antique Cuts
Show Me Your Antique Cuts – Part 2
If you haven't included yours, please click link above ("Show us your Antique/Vintage and Reproduction Rings") and press "post reply" to add photo(s) and/or comments; we'd love to see it.
Visit our "Resources >> Jewelry Search" on Vintage Jewelry to shop.