By Erika W.
Christie's has announced that a portion of Elizabeth Taylor's jewelry collection will be auctioned online from December 3-17. The online sale is part of Christie's larger auction of Taylor's clothing, jewelry, and memorabilia. Her most iconic jewelry pieces, including the Mike Todd Diamond Tiara (below) and the Elizabeth Taylor Diamond, will be auctioned at a special Evening Sale on December 13 in New York.
The online sale will include 950 lots of Elizabeth Taylor's fine jewelry, fashion and accessories, costume jewelry, and decorative arts and memorabilia. The exclusively online-only auction is a first for Christie's, and bidding will be open for the two-week period. Jewelry lots offered include pieces from Chanel, Bulgari, Van Cleef & Arpels, and Cartier.
Starting November 18, visitors to Christie's may browse the entire online sale. Estimates start at $100. Bidding and registration for the online sale begins on December 3. Visit Christie's Online-Only Sale for more details.
Want to see a sneak peak? Christie's has teamed with luxury retailer Moda Operandi to share a preview of the upcoming online sale.
Elizabeth Taylor Online-Only Auction Preview at Moda Operandi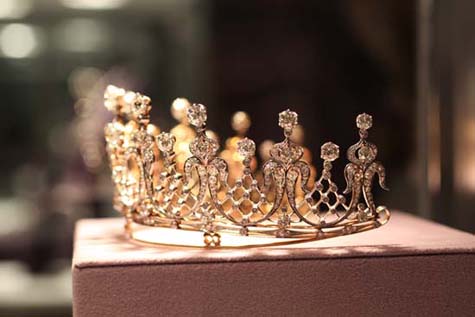 Mike Todd Antique Diamond Tiara
"The online-only sales provide an additional means for her legions of collectors and fans to participate in the auctions, no matter where they live," said Marc Porter, chairman and president of Christie's Americas.
For additional images of Elizabeth Taylor's jewelry collection, please visit:
Elizabeth Taylor's Jewelry, A Pricescope Love Affair – Part One