Natasha-cupcake posting this seriously incredible Padparadscha Sapphire ring on the Show Me the Bling forum at PriceScope.com. Can I just say WOW, this is mind blowingly beautiful! The color, the shaping, it's all on point! Well done, Natatsha-cupcake, this pad ring is #ringgoals for sure.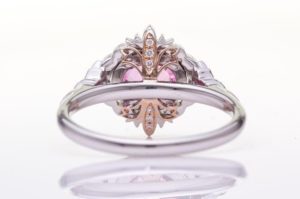 We have been impressed by several of the pieces that have come from Elle at The Gemstone Project, and that has just been amplified! Natasha-cupcake knew where to turn when she sought a pad sapphire that would rock her socks but not break her budget…too much 😉 PriceScopers are known for helping each other fulfill their jewelry goals, and they did it again!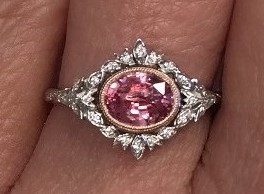 The detail work here is top notch, this is fabulous work Elle! I particularly love the unique look of the E-W orientation, it is a magnificent use of the real estate 😉
The Stats:
Pad Sapphire 1.26 carats 7.46 x 5.97 x 3.58mm.
Go see the post with tons more pad ring pics!
The Jewel of the Week is our chance to feature and appreciate a recently posted piece from the Show Me the Bling Community!
Thank you so much for sharing your jewelry experiences with us. We look forward to seeing more!
#JOTW
Is it safe to buy diamonds online?
What do you look for when buying colored gems?