Mochiko42 shared this absolutely gorgeous sapphire engagement ring with us on the Show Me the Bling Forum at PriceScope.com.  We love every reason to buy and/or wear fabulous jewelry, but the engagement ring will always hold a special place. They can be traditional and classic, or completely unique and loaded with personal flavor.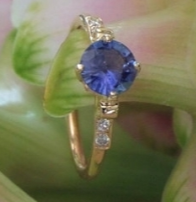 This is a Lotus engagement ring from Sally at Heart of Water. Sally also sourced the stone, and it's stunning! I love the color shifting way that this stone captures the light. This is a wonderful marker of your lifelong commitment, I hope that you have worn it in health, wealth, and happiness in the intervening years! Thank you for sharing it with us!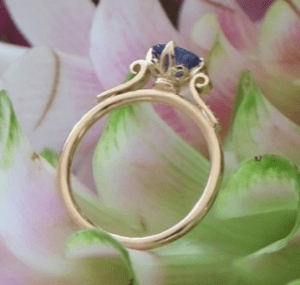 The Stats:
– Sapphire from Sri Lanka (color change, from cornflower blue to violet/lavender-blue), 6.3mm, 0.90 carat, no treatment
– diamonds are G VS1
– 18k yellow gold ring
On Throwback Thursdays, we celebrate beautiful pieces that have been shared over the years!
Thank you so much for sharing your jewelry experiences with us. Keep revisiting PriceScope's past with us each Thursday!
#TBT
Come show off YOUR fantastic bling with fellow jewelry lovers and trade professionals
What do you look for when buying colored gems?