Bright Ice introduced us to this absolute stunner in 2011 on the Show Me the Bling Forum at PriceScope. This glorious spinel provides a bright pop of color, a brilliant addition to Bright Ice's already enviable collection.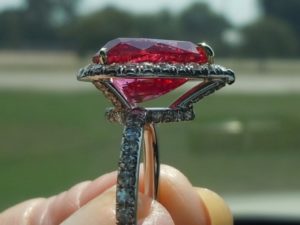 The setting expertly cradles the Spinel here. The use of space in this ring is divine, it is truly unique. This ring is incredibly evocative; as a result it is at once, delicate, feminine, bright,and bold.  The Mahenge Spinel was sourced from SWALA .  The setting, created by PS favorite Victor Canera, is above all magnificent.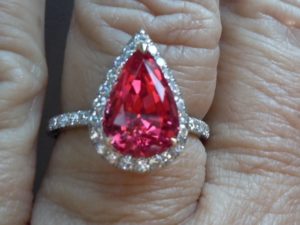 The Stats:
Mahenge spinel 3.76ct
with .79ct diamond single cuts set in Neo French pave, platinum with 18kt gold prongs.
Go see the post with more pics!
On Throwback Thursdays, we celebrate beautiful pieces that have been shared over the years!
Thank you so much for sharing your jewelry experiences with us. Keep revisiting PriceScope's past with us each Thursday!
#TBT
Come show off YOUR fantastic bling with fellow jewelry lovers and trade professionals
What do you look for when buying colored gems?