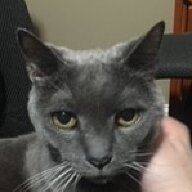 Joined

Nov 16, 2017
Messages

1,032
…. who made an incredible ring for me!
Really, I had no business buying a padparadscha sapphire in the first place. In fact, I'd never even heard of them before Price Scope! But I wanted one! Sapphire's my birthstone and oh, how I love all shades of pink! And orange—I really like orange, too! Pink, orange, hot pink, baby pink, magenta, lipstick pink, blush, champagne pink, rose pink, tangerine, melon, mango, sunset pink, sunrise orange, salmon pink, peach pink, ballet slipper pink, pinky-pink, orangey-pink, pinkish-orange, lotus flower pink, PADPARADSCHA pink! I spent the past 25 years in a jewelry-free fog, busily attending to my marriage, my (small) children and my (large) bills, my demanding job. I went without an engagement ring or any other bling for years. There was no time, no energy and no money for such selfish indulgence. Well, things change and my inner sparkle fiend has come out with a vengeance. First, it was my CBI (that replaced the CZ…that had replaced a long period of nothing… that had replaced a really crappy diamond…). I felt so guilty for spending money on ME! But, oh, how good it felt!
I knew I couldn't afford a REAL pad. Pads are for celebrities. And for expert Price Scopers and royalty! Not for me. But I wanted one! It would be my first colored stone purchase. I had no idea what I was doing. I had no idea of what I didn't know. Well, I decided life is too short… and so I went with it. I found a promising pad within my modest budget, and thanks to the help from some lovely ladies (and a few gents) over in the Colored Stones thread, I felt confident enough to buy my padparadscha.
I drooled over plenty of gorgeous settings, but in the end, it was no contest. I knew
@ElleW
was the designer I wanted. Her gorgeous Feuilles Dorees setting spoke to me. I asked her to tweak it just a bit for me, and together we came up with a few changes including an East-West orientation and a milgrained bezel to replace claw prongs. Elle worked her color magic and recommended a mix of white and rose gold. And, oh my…the results are SPECTACULAR! I am so IN LOVE with this ring!!!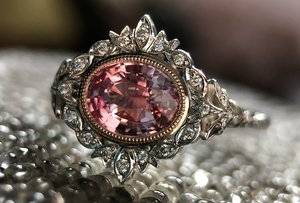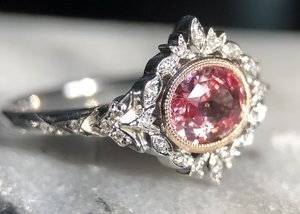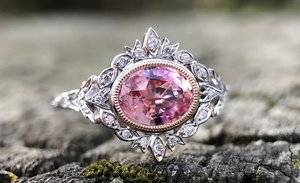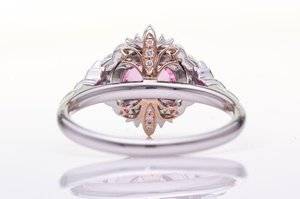 Last edited: