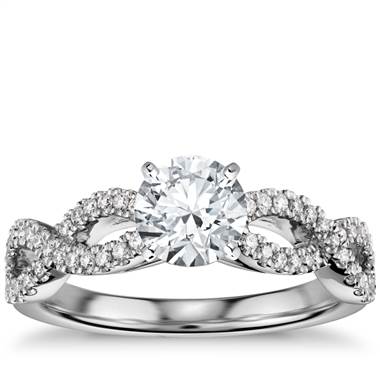 Since time immemorial, men have had the four Cs beaten into their heads. Color, cut, clarity, carat, those are the things that matter when selecting an engagement ring. Yet, far too many men are left bewildered after knowing the 4Cs. So I've come up with the 4Es to help men select the best engagement ring or diamond for the special women in their lives.
Elan. Know her style and what makes her fashionable. There's nothing worse than spending a chunk of change on something she won't be able to fit into her lifestyle or her personal style. Ask her friends. Go in her closet and dig around. And, most importantly, take a peek in her jewelry box. Her friends, closet and jewelry all hold a wealth of information to let you know exactly what type of jewelry is for her.
Economics. Have a price point in mind. We live in an era where you can find wonderful engagement rings and diamonds at a multitude of price points. Therefore, pick a budget and stay within those lines. We guarantee, that you will be able to find her ideal piece of jewelry within your budget.
Ethical. Find a trustworthy dealer. A legimitate dealer will have a good return policy, provide a GIA reference and be knowledgeable about the piece you are interested in purchasing. Many people buy online and there are hosts of great online sellers (Blue Nile and Whiteflash for example), but there are also unscrupulous dealers and personal sellers trying to take advantage as well. Keep your eyes open and read "Is It Safe to Buy Diamonds Online" to make sure you stay ahead of the game.
Expanse. Size doesn't always matter. You may find that hard to believe, but it's true. Long thin fingers can be overwhelmed by a rock larger than three carats. Some women prefer smaller diamonds because of their lifestyle. Others want something you can see from space. Just know that the size of the diamond is does not equate with a higher or lower quality, thus it is up to personal preference to find the one that works for your loved one.
See guys, now you're covered! You have the 4Cs and the 4Es to help guide you to the perfect ring. Happy hunting and let us know how you made out!
Photo: Infinity Twist Micropave Diamond Engagement Ring in 14K White Gold by BlueNile, $1170. Find on PiceScope Jewelry Search