July Birthstone: Ruby
"Red is fire, blood, the very life-giver itself – passion. Women do not paint their lips green, nor do men send their love blue valentines. No, for thoughts of love and passion, only one color will do – red. And no more passionate gem exists than the ruby." – Richard W. Hughes, Seeing Red – A Guide to Ruby Connoisseurship.
We had the pleasure of meeting William Hakimi of A. Hakimi & Sons, a manufacturer and distributer of fine rubies, at AGTA's GemFair at JCK 2012. Hakimi showed us several natural, untreated Burmese rubies in rare, large sizes. Most rubies found in the marketplace have been treated to improve color and/or clarity, so the 10-carat unheated Burmese ruby (shown below) is among the finest and rarest rubies in the world.
High quality, untreated rubies command some of the highest prices for gems worldwide. On May 14, 2012, a new auction record was established for the sale of a 32.08-carat Burmese ruby and diamond ring from the collection of Mrs. Lily Safra. The jewel sold for $6.7 million, the highest price for any ruby sold at auction.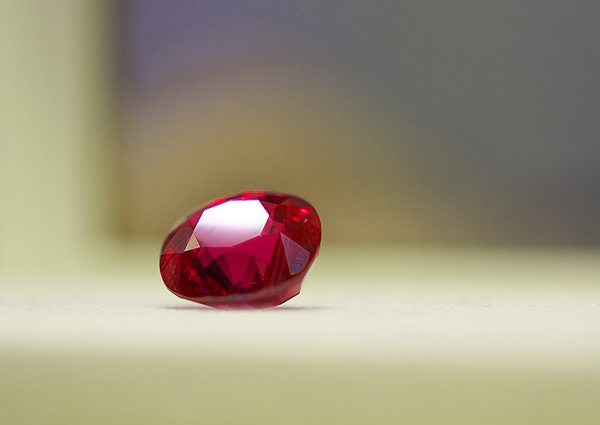 10-carat cushion-cut unheated Burmese ruby from A. Hakimi & Sons • Image by Erika Winters
A remarkable stone of top color, this 10-carat Burmese ruby was among several large, untreated rubies on display at A. Hakimi & Sons' booth at JCK's 2012 AGTA GemFair.
**A. Hakimi & Sons sells solely to the trade.
Related Topics:
Jewels for Hope: Lily Safra's Charity Jewelry Auction
JAR, Jadeite, and Burmese Ruby Highlight Christie's Hong Kong Auction